Ludhiana police and Child Line 1098 to take joint steps for welfare of children
Child Line to be intimated whenever abandoned children are found: ADCP Deepak Pareek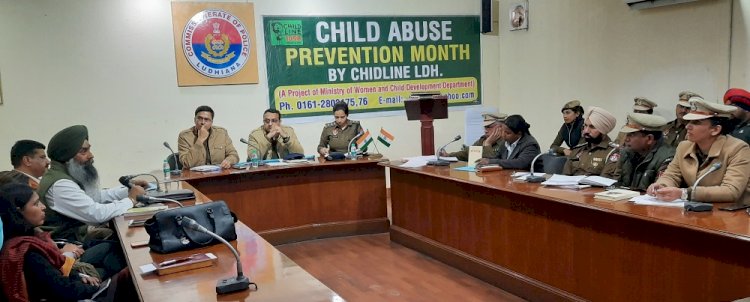 Ludhiana: A meeting regarding sensitising the SHOs, Police Post Incharges, and other officials of Police Commissionerate Ludhiana regarding the Child Line-1098 was organised here today. The Child Line 1098 has been started by the Child Line India Foundation of Union Women and Child Welfare Department for the betterment of children in age group of 0-18 years and works 24 hours.
During today's meeting, Child Line Director Mr Kuldeep Singh Mann sensitised the police officials about the working of the Child Line-1098. ADCP (I) Mr Sachin Gupta, ACP Miss Harjot Kaur, Mrs Rashmi Saini, District Child Security Officer, were also present on the meeting.
Mr Kuldeep Singh Mann informed that 1098 is a toll free helpline service, where any person can or any needy child give information about an abandoned child. He said that the Child Line immediately swungs into action and provides relief to that child. He said that children who cannot open up about any problem in front of others can use this helpline. He informed that any homeless, missing, absconding, beggars, etc children can contact at the helpline for help.
ADCP Mr Deepak Pareek asked all the officials to ensure that the child line is intimates whenever an abandoned child or a child in need is found/recovered. /(Feb 13)