On Income Tax Day, Income tax department Ludhiana distributes masks, kadha and soaps amongst people
Priority is being given to families living in slums and labour colonies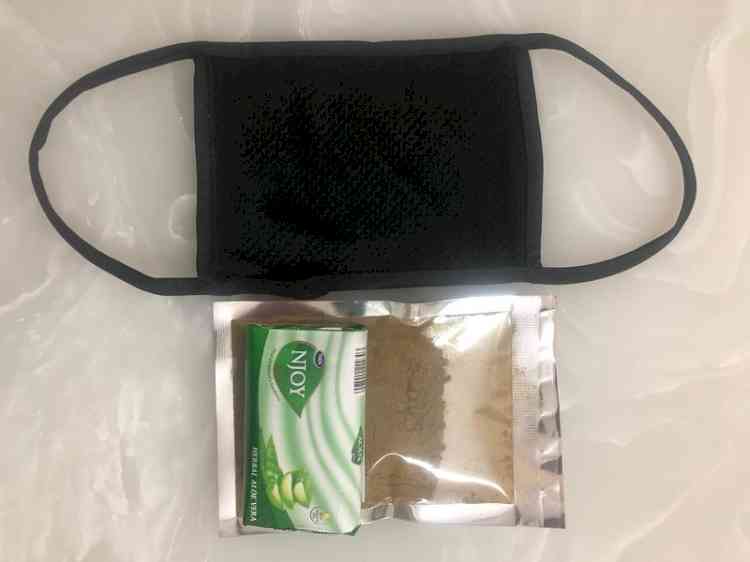 Ludhiana: Income tax department Ludhiana, under its 'Income Tax Social Responsibility' (ITSR) initiative, is taking proactive steps to help contain the spread of COVID-19. The department in association with the "Golden Hearts" of Ludhiana and volunteers has called upon people to "Join the MASK MOVEMENT" called "मास्क लगाओ, कोरोना हराओ" on Income Tax Day that is 24th July 2020 with multiple objectives of creating mask awareness, immunity awareness, environment awareness along with awareness of the citizens regarding their duty to contribute to nation building by paying their due taxes.
This "Join the MASK MOVEMENT"  involves distribution of at least one lakh masks to people, as also distribution of Ayurvedic 'Ayush Kadha' for immunity and 'Soap' for personal and hand-hygiene. 
Priority is being given to families living in slums and labour colonies,  to raise their level of awareness and ensuring their protection from COVID19. 
The first lot of masks, kadha and soaps were flagged off by Mr Binay K.Jha, Chief Commissioner of Income Tax, Ludhiana from Aaykar Bhawan, here. The event was organised following proper social distancing and hygiene norms.
The masks are being distributed from the currently closed NGO schools in labour colonies,  and being given to devotees visiting Gurudwaras and Temples.
As a part of the anti-corona kit, Along with the face  masks  and kadha, the income tax department also distributed 10,000 handwash soaps to the local slum areas. Sh BK Jha , chief commissioner said that as research has shown that the corona virus is destroyed by 20 seconds of hand washing,  soap is an important component in the fight against corona.
Greeting all taxpayers and citizens on Income Tax Day, CCIT Jha says: "There is an urgent need to provide reusable cloth masks and immunity-boosting KADHA to people, not only to protect them from COVID-19, but also to spread awareness among the public on the need to use masks with social distancing. We have to win this war against the virus. I am also happy that a large number of these masks have been made by women's self-help groups in Punjab with the result that the MASK MOVEMENT is also generating Income for people in need, thus boosting economic immunity for them. Also we have organised around 25,000 trees-saplings for Jammu and Kashmir that are being planted by the BSF. 9000 trees have been provided today. The target is to plant at least two lakh trees. I am happy that more and more IT employees, including Patiala and Jalandhar Charges, the Bar members, taxpayers and volunteers are coming forward to join and support the initiatives. Every Indian, taxpayer or otherwise, should come forward and contribute towards the effort for winning this crucial battle for India . And we are committed to protecting the health and building economic community for our nation."Senior officers of the Department, representatives from the Income Tax Gazetted Officials Association, Income Tax Employees Federation, District Taxation Bar Association, Taxation Bar Association and Punjab Taxation Bar Association were present.