Government schools' students set to be `Mission Fateh' warriors
The teams have prepared a short video lesson which will be displayed everyday in online lessons of every class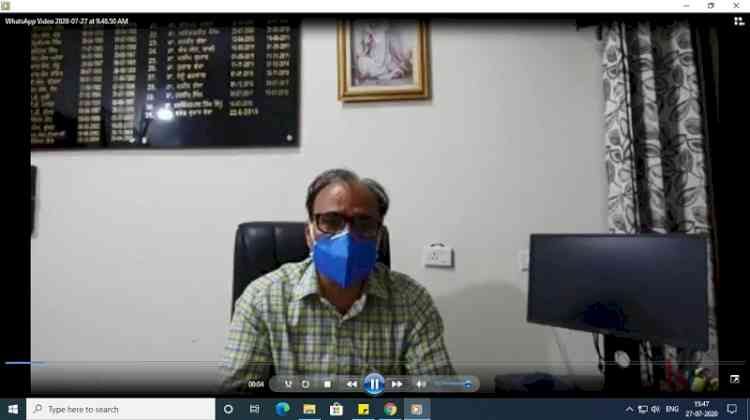 Ludhiana:    In continuing the effort to aware school students about Covid preventive measures, the Mass Media teams of Civil Surgeon office, Ludhiana has coordinated with Government authorities of education department of Ludhiana. The teams have prepared a short video lesson which will be displayed everyday in online lessons of every class.
 
Civil Surgeon Ludhiana, Dr. Rajesh Kumar Bagga said that three teams have been working specifically on awareness of covid. He said, they have already included many private schools of the city which have started sending the lesson of Covid basic preventive measures and children are definitely getting benefit from that. Today the teams met the District Education Officer (DEO) (Secondary) and have coordinated with them to display the basic preventive measures to stay aware of Covid-19.
 
Bagga said, every student should know the basic three features which are keeping adequate social distance, washing hands with soap and water for atleast 20 seconds and wearing masks in proper manner. He said, kids love to go outside and play with friends but now they are not going outside unnecessarily which indicates that they are serious about their own safety as well as their family's safety.
 
Bagga added that every person who teaches others about Covid-19 and keeps them safe is not less than a warrior and with this all the kids will become 'Mission Fateh' warriors. He said, along with this , soon they will add more lessons which would teach importance of these measures and also teach right techniques of hand washing, importance of social distance and right way to put on and remove mask.
 
Apart from this, teams also visited the crowded places of the city where they addressed the people with public address system (PAS) fitted in their IEC vans and told them about everything they need to know about covid-19 and asked them to rely on the information they recieve through cova app and should cross check every information they receive instead of believing rumors.