Ludhiana MP appreciates District Administration, Health, Police, Civic Bodies for their outstanding role during Covid-19 situation
Urges people to avail maximum benefit of State, Centre sponsored schemes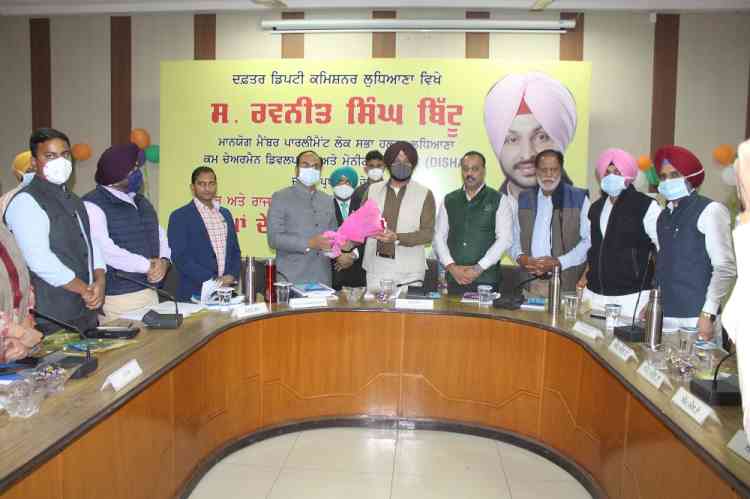 Ludhiana: Member of Parliament (MP) Ravneet Singh Bittu on Tuesday, appreciated the entire team of District Administration, Health, Police and Civic Bodies for their outstanding role to serve the mankind when COVID-19 was on peak. "I bow my head and respect all of you for the tireless work you did during this pandemic," he said.

MP Ravneet Bittu, who is also a Chairman of District Development Coordination and Monitoring Committee (DISHA) was presiding over the committee's meeting to review various State and Central Government sponsored schemes at Bachat Bhawan here. MLA East Sanjay Talwar, MLA Payal Lakhvir Singh Lakha, Zila Parishad Chairman Yadwinder Singh Jandiali,

Mayor Balkar Singh Sandhu and Deputy Commissioner Varinder Kumar Sharma were also present in the meeting.
While reviewing various schemes, MP Ravneet Bittu asked the officers to organise awareness camps about the schemes so that people at grassroots can be enrolled under the various schemes run by central and state governments. He also asked the officers to execute the work in a time-bound manner.

The MP said that all the departments especially education, agriculture, social welfare, health, Municipal Corporation, water supply and sanitation, rural development and others need to play an active role to facilitate the people who visit their offices daily.

He also directed concerned officials to maximum sensitise people about the Pradhan Mantri Matru Vandana Yojna and Sakhi One Stop Centre.

Deputy Commissioner Varinder Kumar Sharma thanked MP Ravneet Bittu for the appreciation and encouraging words for the officials and staff, who had worked hard during COVID-19 pandemic.

Deputy Commissioner also informed the MP that like the second wave of COVID-19 has started hitting other states, the Ludhiana District Administration not ruling out the possibility, is prepared to handle another wave. He urged people to continue adhering COVID-19 safety protocols including wearing masks and maintaining social distancing as this is the only vaccine and way to avert the second wave.