Ludhiana District Basketball Championships for U-17 and U-19 (Girls and Boys)
Sukhpal Singh Brar DCP (Retd) who has also been an Arjuna Awardee sportsman inaugurated the tournament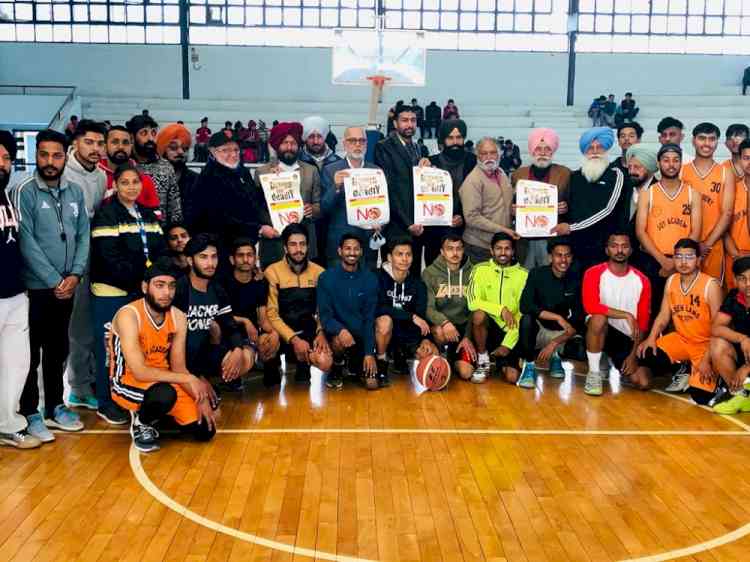 Ludhiana: Ludhiana District Basketball Championships for Under -17 and Under -19( Girls and Boys) organised by District Basketball Association, Ludhiana (DBA), under the aegis of Punjab Basketball Association (PBA)was inaugurated today (29th January 2021) at Guru Nanak Stadium indoor Basketball Courts .
Shri Sukhpal Singh Brar DCP (Retd.) who has also been an Arjuna Awardee sportsman inaugurated the tournament. He spoke to the youthful players to follow the twin mantra of discipline and hard work in order to succeed in life. Giving his own example, he said that nothing is impossible if you put your heart and soul into your area of interest. Mr. Barar also gave a pledge to teenager youthful players to never to fall into drugs trap to ruin their career. Shri JP Singh (PCS, retd.), President – District Basketball Association, Ludhiana (DBAL) informed  that DBAL is introducing special coaching classes for not only young basketball players but also coaches so that the players can be imparted better training during their formative years. Balkar Singh Barar, a Senior VICE President of DBA was quite appreciative of PBA cloaches who are helping DBA players by imparting training to district players also. Besides Olympian Balbir Singh others who attended the event were Paramveer Bhogal,  Avinish Aggarwal, Jagroop Jarkhar,Prof. Rajinder singh,Major Singh Sohi, Vijay Chopra among many others.Teja Singh Dhaliwal, SR VP – Basketball Federation of India and Gen. Sec. PBA who also graced the occasion while thanking the Punjab Govt. informed that three indoor basketball courts have been approved under the Ludhiana Smart City Project which will give a huge fillip to the game in the district as many a national and international matches will be played here.
A Poster with a terse message 'say no to drugs-yes to sports' prepared by DBA treasurer Brij Goyal was also released by the Chief Guest Sukhpal Barar on the occasion which was attended by players and their parents  in large numbers .
Results :
Under 17 Boys
DGSG Public schoollwins  over Policelines Club team by 15-06.
Gymkhana Club wins over Joy Brothers by 52-40 
Doraha Public School wins from  DAV Hawks team by 56-31         
Gymkhana Club wins over JOYS Brothers  42-15
Under 17 Girls ;
Guru Nanak Club wins over  BIS CLUB  by 35-20
DAV  Int Public School International Public School won over DAV Hawaks  38-36
Other matches are in progress for the day .