Ludhiana Commissionerate Police cracks robbery incident within nine days, gang busted
Three held with two iPhones, cash Rs. 2.70 lakh, two ATMs, weapon & motorcycle used in crime- Gurpreet Singh Bhullar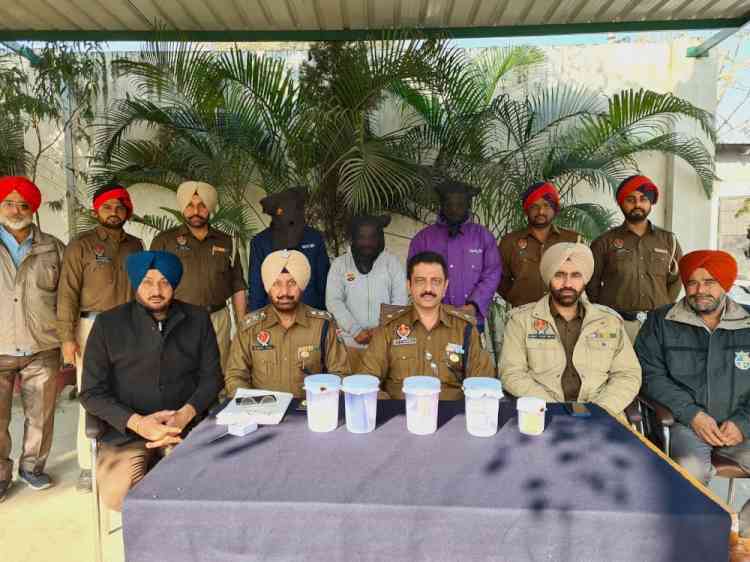 Ludhiana, December 19, 2021: In another success, Ludhiana Commissionerate Police has solved another high-profile robbery incident that occurred at R.K. road on December 10, 2021, by busting a gang of robbers with massive recovery from them.
Divulging the details, Commissioner of Police Gurpreet Singh Bhullar said that the loot incident had taken place outside a hosiery factory situated at R.K. road where six bike borne robbers had attacked the factory owner Radha Mohan Thapar with sharp-edged weapons and snatched a sum of Rs. 9.50 lakh along with two I-Phones, and ATM cards. The factory owner had withdrawn this amount from the bank so as to distribute among his workers as salary, a routine practice that takes place on 10th of every month.
 
Mr. Bhullar said that investigating the case on the basis of human intelligence and technological support, the Commissionerate Police cracked the incident by busting a gang of robbers with the arrest of three of the accused. The arrested robbers have been identified as Vishal alias Simba, 19, of SBS Nagar, Sunny alias Sandy, 22, of Giaspura, and Azad alias Arun, 25, of Shimlapuri, district Ludhiana, he said, adding accused Sonu Kumar of Giaspura, a former employee of the Shive Hosiery, had carried out the reconnaissance of the factory before hatching a plan to rob it.
 
The CP also mentioned that the police teams have raided the hideouts of the accused in Chandigarh, where Sunny and Vishal had been taking resort after committing the crime. He also said that the police have taken police remand of all the three accused and raids were on to nab the remaining robbers involved in this robbery as police have crucial leads of their whereabouts.
 
The Police have recovered the sickle which was used as a weapon in this crime besides two I-Phones (12 Max Pro, 10 Max) along with cash looted from the industrialist, said Mr. Bhullar. He also revealed that the accused had thrown the evidence in a canal which was later on recovered with the help of divers.