Ludhiana Architects attend online address by Vice President of India 
Vice President M Venkaiah Naidu addresses architects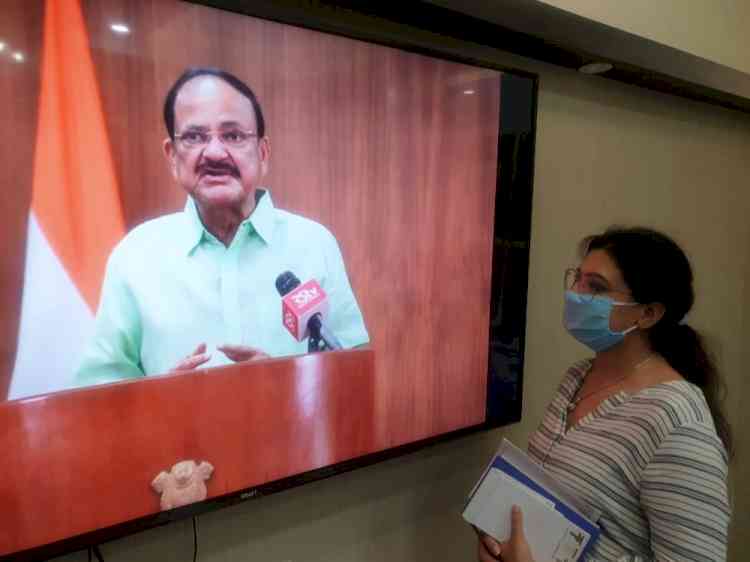 Ludhiana: Many architects from the Indian Institute of Architects Ludhiana Centre (IIALC) attended online National Convention of IIA - NATCON, inaugurated today by the Vice president of India, M Venkaiah Naidu. He congratulated The Indian Institute of Architects and the architecture fraternity on hosting this prestigious event, where all architects from all over India came up on one platform and discussed the issues on architecture and the ongoing COVID-19 pandemic.
Virtually addressing the inaugural ceremony of IIA NATCON 2020 - TRANSCEND, the Vice President emphasized the need to strike the right balance between aesthetics and sustainability in any structure. Today, he called upon the architects of the country to adopt and promote Green Architecture. He said that the use of renewable energy sources such as solar energy should be promoted in the upcoming building projects.
The Indian Institute of Architects is hosting IIA NATCON TRANSCEND 2020 on 11th and 12th July 2020 and Ludhiana Centre is one of the active centre of IIA.
The Indian Institute of Architects (IIA) is the national body of architects with more than 25,000 active members and is playing a major role in promoting the profession of architects by organising and uniting the architects of India to promote aesthetic, scientific and practical efficiency of the profession both in practice and education. This year NATCON is being held virtually. The IIA NATCON is the only national level convention for architects organised by its own fraternity.
The National Convention with its theme as 'Transcend' focuses on Self-reliance and Resilience in Architecture, with an inclusive approach to address the Equitable built environment for all sections of the society, the lessons from the Pandemic, and the way forward. The NATCON is featuring expert Talks by Internationally renowned Architects and Panel discussions on a range of topics that are related to the profession and the society.
Online inauguration was attended by more than one thousand leading architects from all over India.
This information has been given here today by Ar. Sanjay Goel, Chairman- IIA Punjab Chapter, in a press release.