Ludhiana administrates 2 million covid jabs, cover half-million in last 30-days
Momentous milestone in war against covid-19 pandemic: MC Mamta Ashu and ADC Sandeep Kumar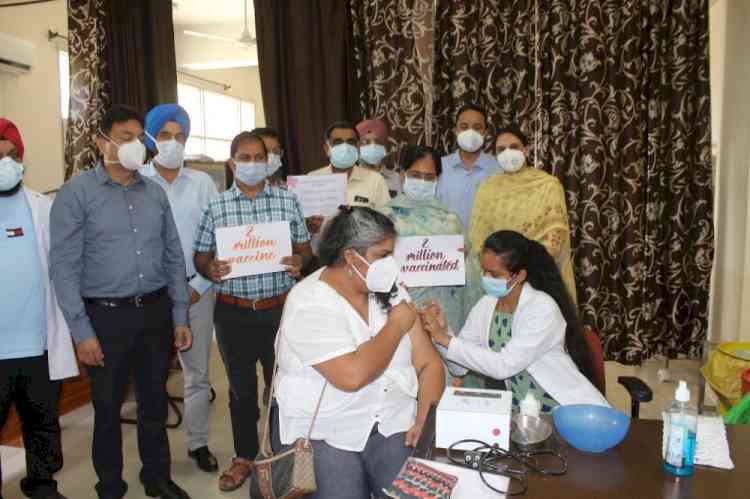 Ludhiana, August 31, 2021: Recording a rare feat in its aggressive Covid vaccination drive in Ludhiana, the district administration delivered its two-millionth dose on Tuesday, that started on January 16, 2021.
Out of 2-million doses, last half-million people have been administered the vaccine in just 30 days. 
The target of first one-million jabs was achieved on June 22, 2021 and next half-million doses on August 1, 2021.
Presiding over the event held in Civil Hospital, MC Councillor Mamta Ashu, Additional Deputy Commissioner (UD) Sandeep Kumar called it a remarkable milestone in the battle against novel Coronavirus. 
They added that this is fastest ever pace of the vaccination drive in any district of Punjab which would help to tackle the third wave of the pandemic more effectively.They said that these life saving jabs would help to protect the peoples' lives from third wave 
They congratulated those vaccinated and those making the vaccination drive a success especially health teams. 
They said that the vaccine is being supplied by the union government and all stock of vaccine gets utilized in a single day whenever the supply arrived. 
They said that now more camps would be held in the district to ensure that all eligible beneficiaries could be vaccinated before the advent of  third wave. 
They solicited people's support in this task to keep Covid-19 spread under check, because mass immunization is the only solution to this deadly disease.
They reiterated administration's commitment to Immunizating maximum numbers of people so that prospective third wave of Covid-19 pandemic was tackled effectively. 
Prominent among present on the occasion included Assistant Civil Surgeon Dr Vivek Kumar, SMO Dr Amarjeet Kaur, SMO Dr Randhir Singh Chahal, SMO ART Dr Harinder Singh Sood, Pediatrics specialist Dr Harjeet Singh besides several others.