Ludhiana Administers 1.5 million jabs, 5 lakh doses given in just 43 days
MLA Dawar, MC Councillor Mamta Ashu & DC hail extraordinary feat, describe significant achievement in war against the virus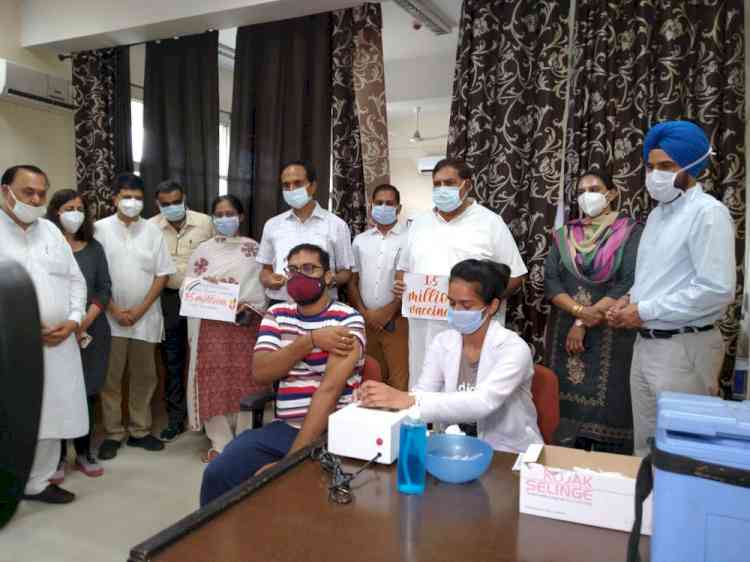 Ludhiana: Achieving the extraordinary feat in battle against the deadliest Coronavirus, the district on Sunday administrated its 1.5 millionth jab. 
Ludhiana which is already leading the state with the highest coverage of the people in its Covid inoculation drive since started in January 16, has given 5 lakh jabs in just 43-days despite being short in supply. The district had administrated one-millionth jab on June 19 this year. 
Lauding the role of doctors, para-medical staff and people of Ludhiana, MLA Ludhiana Central Surinder Dawar, Deputy Commissioner Varinder Kumar Sharma and Municipal Councillor Mamta Ashu called it a significant achievement and said this would help the administration to tackle the pandemic more effectively. 
They especially reached the civil hospital for congratulating the health department and said this remarkable accomplishment is the result of the hard work of doctors, nursing staff and students who remained at the forefront and ensured the fastest coverage of 1.5 million people in this gigantic immunization drive. 
They said that vaccine is the only effective weapon to rein in the virus and would help society to return to normalcy. They said that district administration would leave no stone unturned by vaccinating every eligible before the advent of the expected third wave.
Deputy Commissioner Varinder Kumar Sharma vaccine is being supplied by the central government and whenever it arrives, people must take the Covid shot without delay. He also told that people still need to remain cautious as the virus is still among us and we have to be very cautious.
He asked the people to continue to observe Covid-19 appropriate behaviour including wearing masks, maintaining social distancing, and hand hygiene otherwise laxity attitude will certainly invite the third wave of the pandemic.
Dr Bishav Mohan from DMCH Ludhiana said that the third wave would have minimal impact on the lives of the people if all residents of the district get the vaccine soon. He said that the vaccinated people would not need hospitalization even one contracts the virus and can be cured at home.
ADC Urban Development Sandeep Kumar, Civil Surgeon Dr Kiran Ahluwalia Gill, District Immunisation Officer Dr Puneet Juneja, besides several others were also present on the occasion.