LPU's Badminton Player to participate in 31st World University Games-2021 to be held in China
FISU (International University Sports Federation) is to organise and govern the 31st World University badminton games at Shuangliu Sports Centre Gymnasium in Chengdu City of China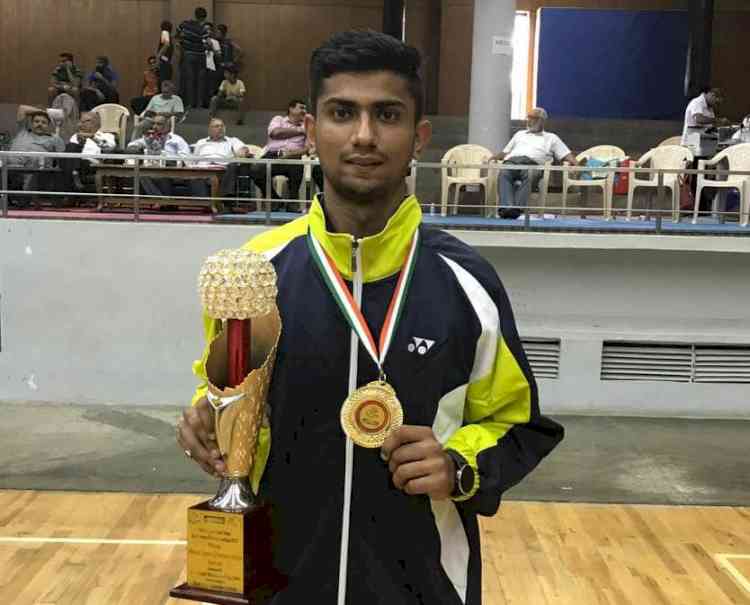 LPU's Badminton Player Hardik Makkar to participate in 31st World University Games 2021 to be held in China.
Jalandhar: Post graduation student, a badminton player Hardik Makkar at LPU is heading to participate in the World University Games to be held in Chengdu, China from 18th to 29th August 2021.  Hardik hails from the state of Haryana, and is presently a student of Master of Arts in Sociology at LPU. Recently, Hardik has outclassed a number of players in his seven matches held in Bangalore, where 124 other players had competed in different matches and categories. Now, the Bangalore competitions have paved Hardik's way to 31st World University Games, China.
Director, Department of Sports at LPU, Dr Raj Kumar Sharma and the Coach of Hardik, Jaydeep Kohli share: "It emerged as a jubilant experience for us at Bangalore, where we saw Hardik in the best form to be able to further appear in the World University Games-the Olympics of the students. Hardik's successive medal winning ability showcases his strength, and assures us all at the university that Hardik will lift the World Championship trophy too."
Hardik is now very eager and excited to defeat his rivals at WUG and bring glory to the nation and LPU. He shares: ''I am practicing hard regularly, and also very keen to win 'Gold' at the games. I am thankful to LPU management for giving me a chance to show my skills to the world."
Considered "Olympics" for the student-athletes competing from across the globe, World University Games (WUG) are organised and governed by FISU (International University Sports Federation). FISU is to hold 31st World University Badminton games at Shuangliu Sports Centre Gymnasium in Chengdu city.
With 170+ member associations, FISU is responsible for the worldwide sports competitions among student-athletes between the ages of 17 and 28. With the motto of "Today's Stars, Tomorrow's Leaders", "Excellence in Mind and Body"; 72 years old Federation is presently headquartered in Switzerland.
Worth mentioning, many of the talented-students compromise on their careers of passions due to certain financial or other hardships. However, LPU believes that talent is not captive to anything. It is providing scholarships on the basis of such students' performances in Sports, Cultural, R & D, Co-curricular activities, Social Service, Bravery Awards and more. This initiative is more of a reward for talent rather than any support.