LPU hosted four-day First National American Football Championship-2020
BCGI in India had organized its First National Gridiron Championship at LPU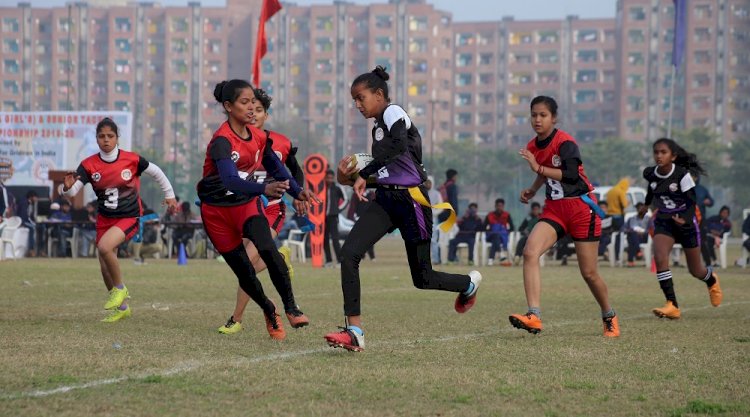 Players from various states of India are participating in National American Football (Gridiron) Championship-2020 at LPU campus.


Jalandhar: LPU hosted Five-Day National American Football (Gridiron) Championship-2020 at its campus. The Board of Control for Gridiron (BCGI) in India preferred to organize its 'First National Championship' at LPU. All Matches for Gridiron under 16/19 Boys & Girls and Senior Boys' (above 19 age Group) 'Tackle' Game were played at LPU's American Football Ground adjacent to Boys' Hostel (BH-4). 300 Boys, 150 Girl-Players and 50 Team Managers & Officials participated in the First National Gridiron Football Championship-2020. Teams from Uttar Pradesh, Rajasthan, Chandigarh and Punjab exhibited their supreme sports' skills to excel over other participants from across the country. Winning Trophy in Senior Boys' 'Tackle' Game is lifted by Haryana, mainly comprised of LPU students; Runner Up Trophy by Rajasthan; and Punjab remained at 3rd place. MVP Pranshu Dhull of Haryana Team is declared the best player of the Championship. LPU Director General Er HR Singla honoured the winners with trophies and medals.

BCGI has also signed MoU with LPU's Student Organization 'Mission Towards Vision' to organize matches for Championship in future, too, and establish to American Football game as a global sport. It is worth mentioning here that one of LPU's MBA students, Vikas Panwar has already won 'Silver Medal' in American Football World Championship held in Catalonia, Spain in the year 2019.
In this context, General Secretary of BCGI Mr Mohit Singh Rajawat shares: "Preference to LPU Campus is due to LPU Management's equally amazing interest in the global sports activities along with academics, research, co-curricular. Otherwise, how an MBA student like Vikas could have excelled in the Spain Games. We have firm belief in the potentialities and abilities of LPU and its students, and so we have signed an MoU with Student Organization at LPU, where students from all States, UTs of India and 50+ countries getting education." Mr Mohit also informed that, side by side, BCGI has also signed an MoU with Ghana American Football Federation through Mohd. Usman Nakosi on LPU Grounds. As such, BCGI is regularly promoting this sport in various countries.
Thanking BCGI for their trust in LPU and its world-class sports activities, Director of Sports Dr Raj Kumar Sharma and Dy Director V Kaul shared: "We have Olympics level sports facilities at the campus and we have many Arjuna Awardees, Olympics participants, International, National and State winners on our rolls. We want to make our students deft in all skills to emerge as versatile personality for the global utilities."
Appreciating all arrangements for Championship at LPU, Technical Director & Chief Refree Mr H Swami, Mentor (Rajasthan) Ms Urmila Thakur and sportsperson Krishna Singh Raghav informed that originally the National Football League (NFL) is a professional Gridiron league in North America. American Football International is part of the worldwide movement to build, share, and establish American Football as a global sport with a global community. It is also known as "Gridiron Football", for its characteristic playing field, as it is marked by a series of parallel lines along its width, in a pattern resembling a cooking gridiron (framework).
 
Results:
Under 16 Girls: Uttar Pradesh (UP) declared First; Rajasthan Second; and, Punjab Team is at Third place
Under 16 Boys: Rajasthan declared First; Uttar Pradesh (UP) Second; and, Punjab Team at Third place
Under 19 Girls: Uttar Pradesh (UP) declared First; Rajasthan Second; and, both Chandigarh & Punjab Teams placed at Third place jointly
Under 19 Boys: Uttar Pradesh (UP) declared First; Rajasthan Second; and, Chandigarh at Third place