LPU engineering students and faculty members celebrated national engineer's day-2020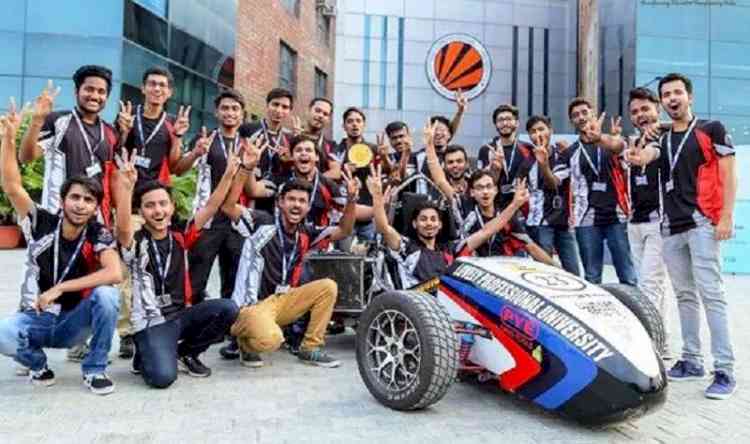 File Photo- Racing car developed by LPU engineering students.
Celebrated the 'day' as tribute to the most innovative and industrious engineer of the country- Bharat Ratna Mokshagundam Visvesvaraya
Jalandhar: In spite of the COVID Pandemic hazards, thousands of students & faculty members from all engineering domains of LPU celebrated National Engineer's Day-2020.  Celebrations were a devoted tribute to the most innovative and industrious engineer of the country- Bharat Ratna Mokshagundam Visvesvaraya.
Theme of live interactive and celebrative sessions was "New Age Innovators", where panel discussions, open house question-answer, deans' challenges, unique addresses on innovations were held. LPU Experts for 'Industry 4.0 Engineering & Business Solutions' interacted online with LPU engineering students of all domains. Students are advised to work for "Predictive Technology" by using AI, IoT, ML, Data Sciences innovatively.
During Panel Discussions, Executive Dean of the Faculty of Technology & Sciences at LPU, Dr Lovi Raj Gupta and Dr Reena, Dr Chander Mohan, Prof Mandeep Singh, innovative students Prabin Kumar Das, Vishv Jyoti put forward all about innovation and ideation. All were unanimous in upholding that "Necessity is the mother of Invention", and in this critical Corona period urgency is driving innovation. COVID-19 has hugely separated innovators physically, but all are well connected through their unique ideas and thoughts. Discussions invoked all participants to come together and celebrate the innovator in each one to convert ideas and thoughts into meaningful societal solutions. Research oriented creative students also shared about their innovative herbal masks, smart dustbin and more.
In fact, engineers' contribution to a country's development is ever flowing and an innovation is not restricted to a particular age. Budding engineers at LPU are of this clay, and are continuously scaling on heights by accomplishing extraordinary feats. From coding in Hackathons to designing spectacular racing vehicles and participating at International events, LPU has an extraordinary journey with the craft of engineering. Undoubtedly, it is being considered as one of India's most technology-driven and futuristic engineering institutions.