LOCKDOWN IS A PERIOD OF BLESSING IN DISGUISE FOR FATHER-SON DUO 
NOTED HINDI NOVELIST DR AJAY SHARMA AND HIS SON AND BUDDING ENGLISH NOVELIST PARUL SHARMA FOCUSING ON CREATIVE WORK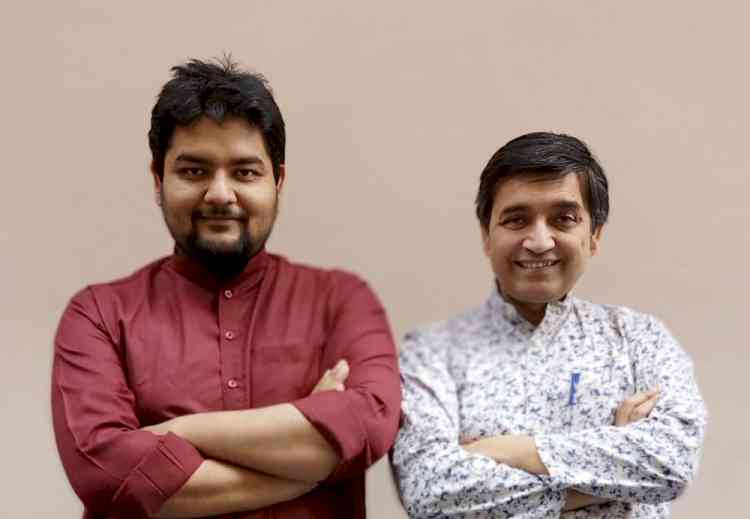 R-L: Hindi novelist Dr Ajay Sharma with his son Parul Sharma- a budding English novelist.
Jalandhar: Dr.Ajay Sharma is a popular and well established face of Hindi Literature. He has been into the creative process for more than two decades. He is the only contemporary writer whose novels have been prescribed in different universities of India. The readers have so far enjoyed his 12 novels and 2 dramas. When asked about his views, he said, time had always been an issue due to job constraints. But now, I have ample time to contemplate and create and the result is, I have penned down two dramas - Operation Bluestar and Dalit Pandit. In this sense, these days are blessings in disguise for me. 
Further highlighting about the two, he says, Operation Bluestar is set against the backdrop of black era of Punjab in 1984.  It depicts the psychological turmoil of a Sikh soldier in uniform when he gets an order to attack the sacrosanct place of his worship- Golden Temple and how he loses mental balance and eventually ends up finding himself in a mental asylum.
Another drama Dalit Pandit is a satirical attempt on the degenerative role of priestly class and challenging their supremacy on rational arguments, reveals Dr Ajay Sharma.
Replying to a question, Dr Ajay Sharma said, "The themes of both the dramas are unique and I have tried my best to impart justice to my characters", adding, "Both the dramas would be into printing press once the lockdown is over." 
Dr Ajay Sharma strongly believes that, in this lockdown period, we all should work on our hidden energies and channelise them in a desired direction. 
It may be mentioned here that Dr Ajay Sharma had attained a great fame with his Hindi novel "Basra Streets", which was also translated into English by Sandeep Chahal. 
SOLITARY CONFINEMENT IS THE ONLY MEANS TO SOLITARY REFINEMENT: PARUL SHARMA
Dr Ajay Sharma's son Parul Sharma, a budding author, entered into the field of English writing by penning down his first novel 'Searching My Land' at the age of just 29 years. His novel won many accolades and was an instant hit.
Talking about his creative pursuits, he said, this lockdown is a period of creation as well as recreation for me. This is the time granted by nature itself. This healing process of nature must be linked to the healing of self. I have altered my time table, reshuffled my schedule. "I am reading novels, venting out feelings on paper, singing my favourite melodies, playing indoor games and sleeping tight", said Parul, adding, "In short, I am naturally following the course of my heart."
"I have very well moved on the path to my second novel - `Abandoned Girl' and I hope to complete it soon", he added.
He revealed that, 'Seesaw' is very much in the pipeline and it would also see light of the day, some day.
Parul said, "At last, I would say, we are the carrier in this pandemic and we must not act as barrier. So, home is the safest heaven and we all should fight by staying united inside our homes."