Local boy Akshay Boro derives inspiration from fellow Assamese Hima Das
Boro hails from a small town of Chaygaon in Kamrup district of Assam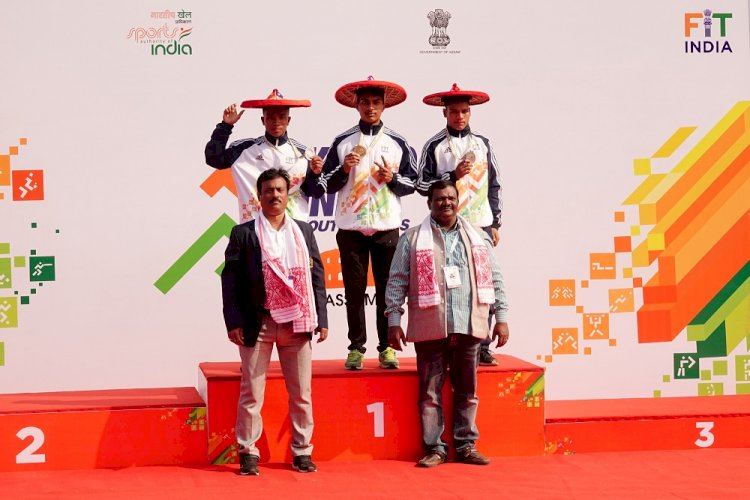 Akshay Boro (extreme right) with gold medal winner Vijay Kashyap (center) and Sadananda Kumar (extreme left).


Guwahati: With the Assamese public witnessing India's best athletes in action here at the Khelo India Youth Games 2020, they were given another reason to rejoice when local boy Akshay Boro won the silver medal in the U17 Boys 200m category with a timing of 22.39s, behind gold medalist Uttar Pradesh's Vijay Kashyap (22.26s).
 
Boro hails from a small town of Chaygaon in Kamrup district of Assam which is known for its sugarcane factories, but the 16-year-old is determined to prove his mettle at the highest level and recognize his town throughout India for producing a sprinter like him. "I hail from a small town which is known for its sugarcane, but I want to reach a level which will see my town get recognition for producing a world-class sprinter," said an excited Boro.
 
The young sprinter who started running in 2018, says he only took up the sport after watching fellow Assamese Hima Das' heroics at the Asian Games the same year. He said, "Hima Das is an idol for me. Her win in 2018 gave me inspiration to pursue this sport, and I asked myself – if she can do it, why can't I do it as well?"
 
However, there is not just one similarity between the two sprinters. Like his idol Hima, Boro also used to be a football player during his initial years. "I had initially started off with football, because it was easy to play and we would play every day of the week. But while playing, I would see fellow youngsters running, and then I also happened to develop an interest. That is when I decided to do it full-time, and finally shifted to SAI Centre, Paltan Bazar in Guwahati, and have been training here only for close to two years," said the 16-year-old.
 
Boro also expressed his delight on winning the silver medal, "I am really happy to have won the silver medal in front of my home crowd. It's a matter of great pride for me to have been able to produce a good performance, and I hope to reach newer heights in the next few years,"
 
"Just like Hima, I also want to win medals nationally, and then internationally. My only aim is to represent India at the highest level one day, which is the Olympic Games," Boro concluded.