Living with Art: A unique exhibition of student work
Pathways School Noida students hosted an Art exhibition titled "Living with Art" at Stainless Gallery.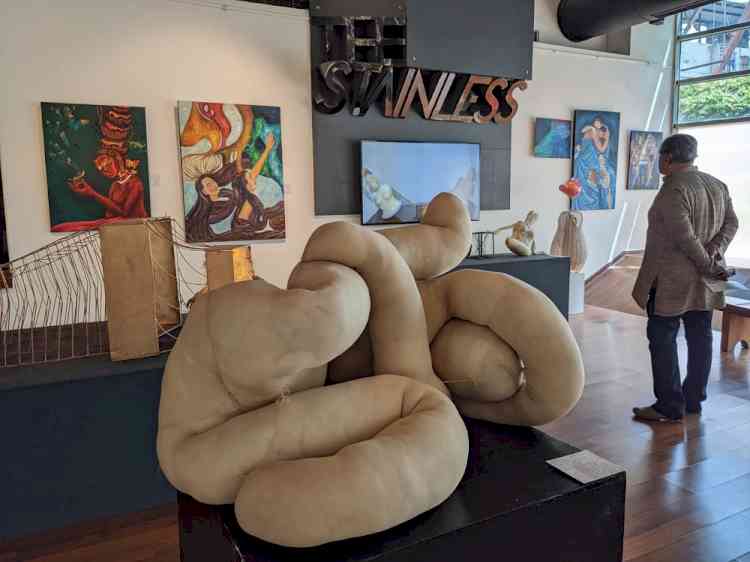 Noida, April 14, 2022: Pathways School Noida students hosted an Art exhibition titled "Living with Art" at Stainless Gallery. This group Show showcased artworks by the upcoming artists of Grade 9 to Grade 12. A public exhibition in a professional gallery provided a unique opportunity for young artists to take their own work seriously and to see themselves as professional artists. The art critic and writer Mr Suneet Chopra who was the chief guest congratulated the school for promoting art as a serious field of education.
 
Historically art has been pushed to the side in education when literacy and numeracy agendas become more important  However at Pathways School Noida the school helps students to explore their passions by recognizing the importance of creativity as a prime principle and how art helps students develop strong academic, social, and emotional characteristics.
 
The students created their work based on self-chosen themes, individual styles, ideas and a vivid amalgamation of skills presented through a variety of artworks. Students explored various media such as sculpture, installations and paintings using a variety of media – clay, acrylic on canvas, wire, POP, etc. Their themes were based on complex themes such as identities, culture, race, emotions and gender. Art is a powerful communication tool and  Pathways Noida has enables students, to channel their passion for the arts to fuel our determination and create unique pieces that showcase global awareness by commenting on women's rights, the environment, and other personal, social, and cultural themes of importance..,
 
As Grade 12 student Sonam shared "It was an excellent learning experience. IB art is so much more than what might meet the eye in this gallery. Our curriculum isn't training a new generation of artists but stimulating a way of being in the world through consistent consideration, a reflection of who we are and how we live, and why so."
 
The faculty at Pathways guided the students through each step of our journey, from theoretical studies of different cultures, times and places to artistic practices of techniques and concepts, and finally to curatorial practices that helped them to  articulate their intentions and development of ideas to create art that isn't made to look good but to start conversations to make an impact on themselves, and the society at large.
 
After a rigorous journey in challenging times, the students presented the final output as an exhibition. They felt proud to be able to exhibit their artwork to external audiences which truly added a seriousness to the learning, display and engagement with art.