Live your dreams and follow your passion: Singer Sheenam Singh
Sheenam is singer, composer lyricist of Kehde Raah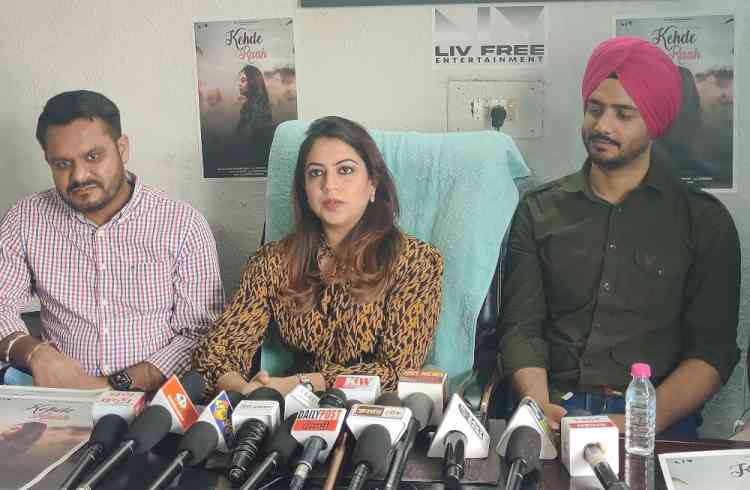 Music lover Sheenam speaks to the media.
Mohali: Music lover Sheenam started writing songs as a hobby in her college days. Deep down in her heart she always wanted to make her own songs and has already penned more then100 songs. It was a dream which was way too big and seemed out of reach but she launched poster of her single track Kehde Raah on Monday at Mohali. 
Sheenam is singer, composer lyricist of Kehde Raah while song is directed by ITS Harry, Music is by Sukhjind and project curator is Manvir Kalsi. Shot at beautiful picturesque location, song will definitely touch millions of hearts, said Sheenam.
Sheenam said as we got hit by the pandemic, so many people lost their lives. That made her realise that life is unpredictable. She felt very strongly that she won't   depart this life before living her dream, so with the support of her husband and family she is launching Liv Free Entertainment platform for budding youngsters. She further said  never give up dreams, take risk ,work hard and success is yours.
Sheenam Singh is a singer who is born and brought up in the town of Mandi Gobindgarh, Punjab, excelled not only academically, she has also excelled in sports and received the Best athlete award from Sprinter Milkha Singh, the day isn't far when she will be renowned name in Punjabi Music Industry too. She said we are welcoming young Punjabi talent for their newly launched platform and will hone their skills before launching them.