LIT hands over 8250 square yard plot to education department 
Land to be used for construction of Govt Senior Secondary Smart School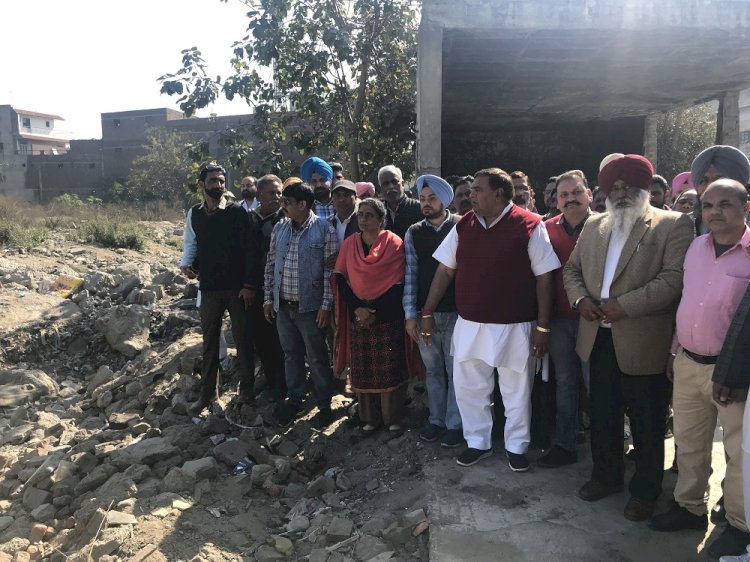 Punjab Govt. committed for providing best educational facilities to students: MLA Surinder Dawar
Ludhiana: In a good news for the city residents, the Ludhiana Improvement Trust has handed over a prime piece of land measuring 8250 sq yards in Kidwai Nagar area of the city to the Education Department for the construction of a Government Senior Secondary Smart School. This has been possible only due to the efforts of MLA Mr Surinder Dawar.
    The possession letter of the land was handed over to DEO (Secondary) Mrs Swaranjit Kaur by MLA Mr Surinder Dawar in the presence of senior Ludhiana Improvement Trust (LIT) and Education Department officials.
    While speaking to media persons on the occasion, Mr Surinder Dawar said that this land has been handed over by LIT to the Education Department totally free of cost. He said that the Capt Amarinder Singh led Punjab government is committed for providing best educational facilities to the students and that is why, several government schools in the state have been converted into smart schools. He said that a Government Senior Secondary Smart School in this particular piece of land in Kidwai Nagar, here.
    Mr Dawar said that with the construction of this smart school, a large number of area residents would be benefitted. He also thanked Cabinet Ministers Mr Brahm Mohindra and Mr Bharat Bhushan Ashu, MP Mr Ravneet Singh Bittu, Capt Sandeep Sandhu, LIT Chairman Mr Raman Balasubramaniam, besides several others for working hard to ensure that this land is handed over to the Education Department for construction of a Government Senior Secondary Smart School.
    Prominent among those present on the occasion included Councillor Mr Gurdeep Singh Neetu, Mr Raja Ghayal, Mr Gurmukh Singh, Mr Sonu Dico, Mr Vinod Bharti, Mr Vipan Arora, LIT XEN Mr Vikramjit, Mr Darshan Malhotra, Mr Raju Vohra, Mr Rajiv Katna, besides several others.