'Life is filled with goodbyes, and this one is really painful" – Sayantani Ghosh on bidding farewell to Sony SAB's Tera Yaar Hoon Main
Sony SAB's Tera Yaar Hoon Main, known as a unique show with a slice of realism in everyday life is ready to bid farewell after a glorious journey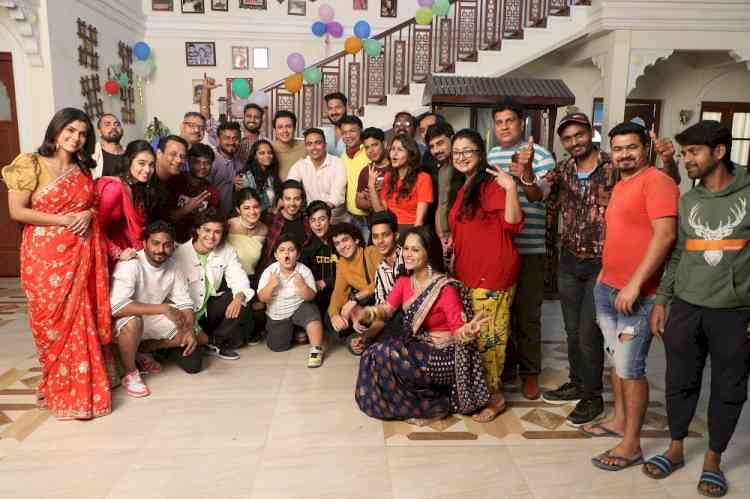 Team of Sony SAB's Tera Yaar Hoon Main.


Sony SAB's Tera Yaar Hoon Main, known as a unique show with a slice of realism in everyday life is ready to bid farewell after a glorious journey. With more than 350 episodes under its wing, the show has come to a capstone whereby lead characters Rajeev Bansal (Ssudeep Sahir) and Daljeet Bagga (Sayantani Ghosh) must decide if they would want to continue their relationship or depart from each other's lives forever. Since its inception, the show has received loads of love and appreciation as it came with a one-of-a-kind storyline shedding light on very sensitive topics like progressive parental relationships, remarriage and moving on.
As the show concludes, Daljeet will be seen  at her life's biggest crossroad where she must decide if she wants to go back to her past or make headway with her present. She has declared war against her fate saying that she will not let either of her husbands or her "kismat' decide her future and she will be the sole decision maker of her life. The show paints a very real illustration of everyday life and how we are forced to take some strong, unpleasant decisions. The show ends after a trial of love and the victory of good intentions over evil.
Commenting on his journey, Ssudeep Sahir says, "Goodbyes are always hard but there has to be an ending to pave the way for new beginnings. I will truly miss playing Rajeev, his simplicity and strong-will still leaves me spell bounded and the guy really inspires me. I will miss my cast and crew without whom the journey wouldn't have been as amazing as it is. I'm not upset that it's over, it's the time we spent together that matters. We were like a real family offscreen as well and my heart is so full now despite the show coming to an end. The show truly came with a unique storyline, depicting very raw emotions with a hint of humour on prime time and I thank the channel and the writers for their trust in me to portray Rajeev. I hope I have done justice to the character, and I am taking a piece of the show with me so that the legacy stays alive forever."
Talking about her journey on the show Sayantani remarks, "I am out of words to express what is going on in my head. Life is full of goodbyes and this one is painful. The show has played a major role to my success, and I will truly miss playing Daljeet as I was too emotionally invested in the character. I really admire her as she is so headstrong and brave. It is a bittersweet moment now as over the years the audience has showered so much love on Daljeet and now that the show has ended, I feel a little empty inside. I also want to take a moment to thank and appreciate my team without whom this journey wouldn't have been fulfilling. I will really miss going on the sets, getting ready for the character but like I said all good things also come to an end and lastly, I would like to thank our viewers for their unconditional support."