Lido learning pool campus placement drive conducted at SBS Technical Campus
Total 120 students from five different colleges of region participated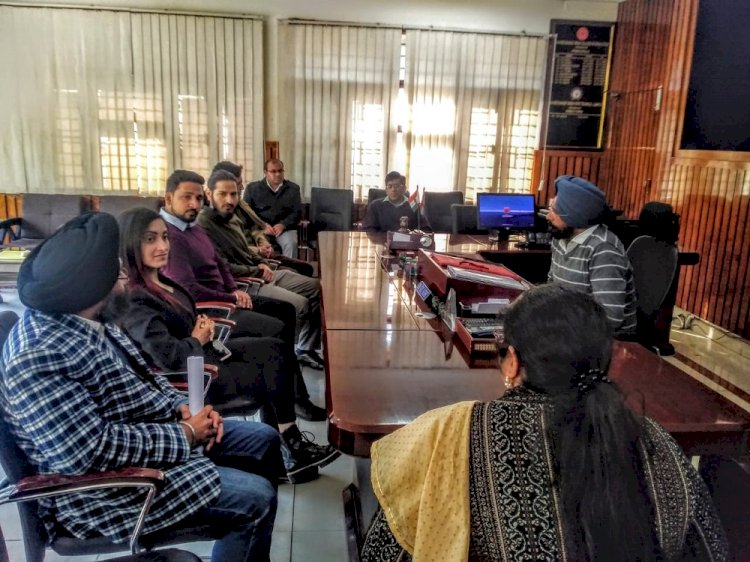 Ferozepur: An ed-tech company that has revolutionsed the formal classroom education LIDO Learning conducted Pool Campus Placement Drive at SBS State Technical Campus Ferozepur today. Total 120 students from five different colleges of this region participated in this Placement Drive namely MIMIT Malout; GZSCCET Bathinda; PCTE Ludhiana; Dev Samaj College for Women and SBSSTC, Ferozepur. The company has offered the package of 10 LPA post internship.

Sh. Priyank Joshi, Sh. Shubham Pal and Ms. Jyotmeen Kaur visited the Campus from Lido Learning, Noida Office. The selection process comprised of Group Discussion Round followed by Personal Interview Round. Out of 120 appeared students in first round of GD, 14 students were shortlisted after and finally three students were selected as Business Development Associate after Personal Interview round.
The selected students names are Diksha Palta from SBSSTC of B Tech CSE final year, Divya Soni and Kamaljeet Kaur (both of MBA from PCTE, Ludhiana).
Dr. T.S. Sidhu, Director said that the company selected the candidates after clearing the two phase process. He proudly said that SBSSTC, Ferozepur has called more than 20 Companies for the recruitment of students in 2019-20 including INFOSYS, WIPRO, SONALIKA, Mechlin Software Technology Pvt. Ltd., NESTLE, Centrient Pharmaceuticals, VVDN, etc. The same efforts will be carried out in future too for providing job opportunities to the border belt of Ferozepur for uplifting the technical education in this area. 
Director T.S. Sidhu, TPO Dr. Gazal Preet Arneja (Professor) congratulated the selected students and their families. Mr. Inderjeet Singh Gill (ATPO) and Dr. Kamal Khanna (ATPO), Mr. Gurcharan and Mr Inderjeet Singh from Placement Cell played key role in smooth conduct of this placement drive. 
During the placement drive Dr A K Asati (TPI ME); Mr. Amardeep Chopra (TPI-CAW); Dr. Vikram Mutneja (TPI-ECE); Dr. Pankaj Kalra (TPI-CHE); Ms. Parampreet Kaur (TPI Civil), Mr. Inderjeet Singh Sandhu (TPI EE), Mr. Balwinder Singh Mohi (Campus PRO), Mr. N S Bajwa (Lab Supdt), Mr. M  S Bajwa (Lab Supdt), Mr. Hitesh Uppal, Mr. Karamjeet Singh, Mr. Pawan Luthra, Ms. Akriti, Ms. Isha Chawla, Mr. Charles Gill, Mr. Harpinder Pal Singh were present. The Training and Placement Cell presented the token of gratitude to the visiting company officials.