Let's walk for a healthier tomorrow
PCRA and GAIL (India) Ltd to hold Fit India Walkathon on Feb 9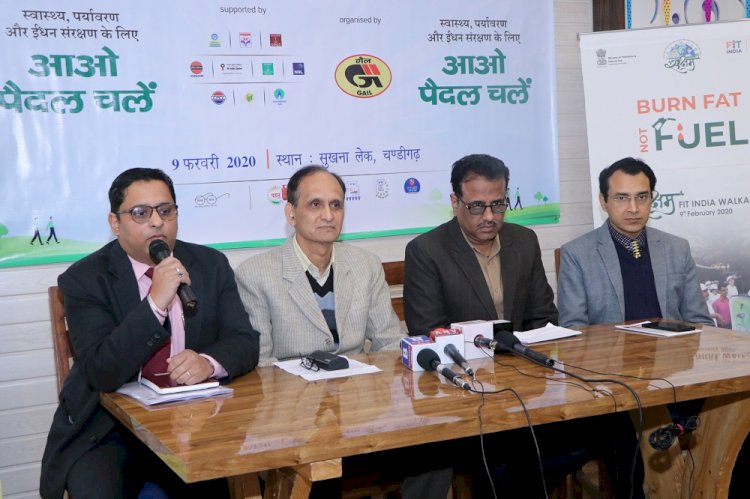 Chandigarh: As a part of the Petroleum Conservation Research Association's (PCRA's) larger campaign – Sanrakshan Kshamta Mahotsav (Saksham), GAIL (India) Limited is organizing Saksham Fit India Walkathon on February 9 at "Sukhna Lake", Chandigarh from 8 am onwards.
Chief General Manager, Chandigarh Zonal Office of GAIL India Ltd., Shri Lalit Bhatt said that this is an initiative of Prime Minister Shri. Narendra Modi who firmly believes that if every citizen avoids using diesel or petrol driven transport medium, even for one day in a week, it would add up substantially to development of new India. Inspired by Prime Minister Modi's vision, PCRA is organizing a month long awakening campaign (from January 16th to February 15th 2020), through which walkathons across close to 624 districts are being organized by oil and gas PSU's to draw mass attention and sensitize various groups of the society on the need and benefits of petroleum products conservation.
Emphasizing on the need of the campaign Shri Lalit Bhatt added that the motive behind Saksham Fit India Walkathon is to develop a mass awakening to adopt walking as a mechanism to not just save fuel but also safeguard the environment and its limited resources at large.
Walking should also be looked at as a primary fitness activity, especially aimed at improvement of health. The objective of campaign and the walkathon is to sensitize participants about the conservation of petroleum products, educate the masses on ways to mitigate pollution levels and save resources by choosing to walk short distances.
It also aims to promote a pollution free environment in Chandigarh. In this event, the participants can take part in a 2 Km walk starting from Sukhna Lake. 
While participants can register online at sakshamsukhna.in, there will also be on-the-spot registration for the event beginning from 08:00 AM at Sukhna Lake, Chandigarh on February 9, 2020.
For larger participation, there is no registration fee being charged. In fact, the first 1000 participants will be given a participant kit which includes a T-Shirt, Cap and refreshments on first come first serve basis.
Large participation is solicited to make this campaign a great success.