Latest news updates related to covid-19 from Ludhiana District
Read detailed news report from Ludhiana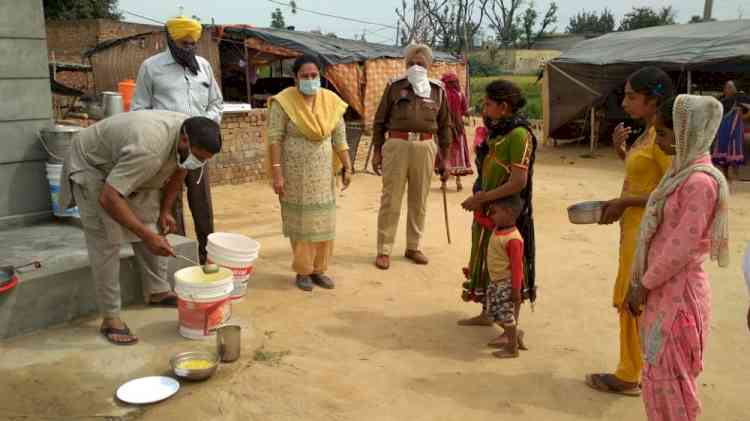 ALL MOVEMENT PASSES EXCEPT FOR EMERGENCY SERVICES CANCELLED
•    ONLY DIGITAL PASSES TO BE VALID FOR COMMUTING
•    MIGRATORY POPULATION TO GET LPG CYLINDERS ALONG WITH RATION
•    CURFEW EXTENDED TILL MARCH 14; PEOPLE SHOULD COOPERATE: DEPUTY COMMISSIONER
Ludhiana: In view of the lockdown due to Novel Coronavirus in the district, the District Administration had issued movement passes to the residents so that they could take care of several services and works. Keeping in view to restrict the movement of people on the roads, the District Administration have decided to cancel all movement passes, except for emergency services, from April 1, 2020 onwards. 
    While providing information, District Magistrate-cum-Deputy Commissioner Mr Pradeep Kumar Agrawal informed that all movement passes issued by District Food & Civil Supplies Controller, Secretary Regional Transport Authority, Chief Agriculture Officer, General Manager District Industries Centre, Zonal Licensing Authority (Drugs), Civil Surgeon, Deputy Director Animal Husbandry, Deputy Director (Dairy), District Mandi Officer, Municipal Corporation Ludhiana, Additional Commissioner Municipal Corporation Ludhiana would stay valid, while all other passes stand cancelled.
    For getting new movement pass, one would have to apply again at http://epasscovid19.paid.net.in.
    Mr Agrawal informed that the farmers would be able to sell their vegetables and fruits at sabzi Mandi located near Jalandhar Byepass Ludhiana from 1 pm to 7 pm on every Monday, Wednesday and Friday. The venders (who are able to send the vegetables and fruits to different places on their own) would be able to purchase fruits and vegetables from 6 am to 10 am every Tuesday, Thursday and Saturday. It is compulsory for the venders to take a pass from District Mandi Officer. The entry of rehri/farhi owners, common man and stall owners would not be allowed into the Mandi. The sabzi Mandi would be sanitised every Sunday.
    Mr Agrawal informed that in view of the lockdown, those people who are jobless, they should pack their bags and clothes and should intimate their nearest police station and should shift to the shelter homes. He said that they would be provided with food and other basic necessities there.
    The Punjab government has sent ration packets for the migratory population that would be distributed shortly. For this purpose, the eligible families are being identified. He further said that this food packet and a LPG cylinder would be provided to every five persons and they have set a target of distributing 1 lakh food packets and 50,000 LPG cylinders.
    Mr Pradeep Kumar Agrawal informed that on the directions of the Punjab government, curfew has been extended from April 1, 2020 to April 14, 2020 in district Ludhiana as well. He said that the exemptions related to essential services as mentioned in all earlier passed orders would continue in the district. He has also appealed to the residents to assist the District Administration during curfew. He said that people should remain indoors so that we all can contribute in checking the spread of COVID 19.
138 SAMPLES TAKEN IN DISTRICT LUDHIANA TILL NOW:
Mr Pradeep Kumar Agrawal informed that till now, samples of 138 suspected patients have been taken in district Ludhiana, out of which three are positive (2 from Ludhiana and one from Jalandhar), one have passed away, 92 have been negative, while reports of 43 samples is awaited. All these 43 samples have been taken on March 31, 2020.
 
MP DR AMAR SINGH ISSUES RS 73 LAKH TO CIVIL SURGEONS OF LUDHIANA & SRI FATEHGARH SAHIB
VENTILATOR, AMBULANCE & OTHER NECESSARY EQUIPMENTS SHOULD BE BOUGHT IMMEDIATELY: MP DR AMAR SINGH
Ludhiana: In view of the Novel Coronavirus (COVID 19), the Civil Surgeons of Ludhiana and Sri Fatehgarh Sahib districts had sent request letters to Fatehgarh Sahib MP Dr Amar Singh for the purchase of some important medical equipment, that was approved immediately and the MP has written letters to the Deputy Commissioners to allocate funds amounting to Rs 72,98,500.
    While providing information, Dr Amar Singh informed that to tackle the spread of COVID 19, Civil Surgeon Ludhiana had demanded Rs 34,98,500 whereas Civil Surgeon Fatehgarh Sahib had demanded Rs 38 lakh. He informed that these funds would be spent for purchasing ventilators, ambulances, infrared thermometers, PPE Kits, three ply masks, latex gloves, sanitisers, portable X Ray machines, oxygen cylinders including regulator, wheel chairs, stretchers, pulse oximeters, Ambu bags, multi para monitors, besides other equipments.
    It is pertinent to mention that Fatehgarh Sahib MP Dr Amar Singh have already authorised the Deputy Commissioners of Ludhiana, Fatehgarh Sahib and Sangrur to use his MPLAD funds for their efforts to check the spread of Novel Coronavirus in their respective districts. Following this initiative, the Civil Surgeons had requested the MP to allocate these funds for the purchase of several equipments.
"ZOMATO" & "SWIGGY" PLAYING IMPORTANT ROLE IN DELIVERING ESSENTIAL COMMODITIES AMONGST RESIDENTS
Ludhiana:    In view of the Novel Coronavirus (COVID 19), there is complete lockdown in the district. The District Administration is ensuring that all essential commodities are supplied to the residents on time. The work related to delivery of essential commodities is not only done with the help of NGOs as well social/religious/industrial organisations, but online platforms "Zomato" and "Swiggy" are also playing an important role in this regard.
    Mr Harpreet Singh, a representative of Swiggy informed that their company alone has delivered 4434 online orders between March 26-30, 2020. He informed that to ensure that all essential commodities are supplied to the residents, a workforce of 220 delivery executives is on roads. He said that if demand increases, they can depute more than 600 such delivery executives on city roads. He further informed that their executives are mainly delivering groceries, milk, fruits and vegetables to the residents. He said that to avail facility provided by their company, residents can place their orders by downloading their mobile apps.
    Similarly, even "Zomato" is playing its role in this regard as they are also delivering essential commodities to the residents. Their representative said that each order is delivered to the residents with minimum delivery charges. He said that all guidelines and directions of the Punjab government are complied with while delivering all the orders so that the spread of COVID 19 can be checked.
    Deputy Commissioner Mr Pradeep Kumar Agrawal said that even District Administration is making sincere efforts to deliver all essential commodities to the residents, but both these online platforms can be used for delivery of items as well.
SPECIAL COVID HELPLINE NUMBER 18001804104 FOR ADVICE ON MEDICAL, STRESS & ANXIETY RELATED ISSUES LAUNCHED
Ludhiana: To effectively address and resolve medical and stress related issues during lockdown, the Government of Punjab have launched a special helpline 18001804104 for citizens to connect with a network of senior doctors over tele-conference and get medical advice on COVID-19 and other related concerns. 
    Deputy Commissioner Mr Pradeep Kumar Agrawal informed that over 1,800 senior doctors have been empanelled through the IMC for this purpose who have been duly trained about the platform, its protocol and functionalities.
    Underlining the importance of the helpline, Mr Agrawal said that an intelligent Coronavirus triaging system has been developed to identify and prioritise cases for emergency medical attention. This system shall also help identify cases for isolation, home quarantine and those who require medical attention. The cases shall be notified to the government for further tracking and action, he added. 
    The helpline has been conceptualised by the Department of Governance Reforms & Public Grievances and is being implemented with the State COVID19 Control Room, Government of Punjab (SCCR) and the India Medical Association (IMA), Punjab State Branch. This feature has also been added to the COVA Punjab mobile application available on Android PlayStore and IOS AppStore.
    The Deputy Commissioner said that there is unrest among some citizens due to the inability to reach doctors in non-emergency cases amid the lockdown. Getting professional medical advice from doctors shall help people understand their own symptoms and act accordingly in the best interest of themselves and their families, he added.
    The bigger plus would be that the technology shall be helpful to the poorer sections in the society in getting access to quality medical advice and treatment amid the curfew.
    Describing the working of the helpline, he said the incoming calls would be first answered by an IVR. This IVR shall filter the calls based upon the type of assistance required and those requiring medical advice on COVID 19 or other health related issues shall be asked for more information such as recent travel history and symptoms. This information shall be shared with the network of IMA doctors and the citizen shall receive a call-back from a registered doctor who shall further listen to the patient's condition and advise on treatment, precautions and other consequent actions.
    Doctors under IMA Punjab have also committed to volunteer amid this pandemic and assist with the situation. The citizens shall be advised on concerns regarding COVID as well as other health issues since it may be difficult for citizens to seek and access professional medical advice amid the lockdown. IMA shall take all efforts to calm the panic and provide the citizens with quality treatment and medical consultation.
PUNJAB GOVERNMENT ISSUES SELF-DECLARATION FORM FOR NRI'S/FOREIGN TRAVELLERS
Ludhiana: In order to keep Punjab safe, Punjab Government has issued a self-declaration form for those all Non Resident Indians/foreign travellers who have arrived in Punjab after January 30, 2020 and have not been contacted by civil Administration, Health and Police Department so far.
    Deputy Commissioner Mr Pradeep Kumar Agrawal said that many NRIs/foreign travellers had already contacted and submitted their details to the concerned authorities in Punjab. This self-declaration form has been issued for those NRIs/foreign travellers who have arrived in Punjab after January 30, 2020, and have not contacted the offices of respective Deputy Commissioners, Civil Surgeons, Health Department and Police so far.
    He said all such NRIs/foreign travellers should submit this form at 'Dial-112' National Emergency Response System (ERSS) immediately.  He further said the NRIs/foreign travellers could also furnish their details at 'Dial-112 App' (available at Google Play Store) or email their details at [email protected] Apart from this, he said information could also be submitted at dial 112 portal -http://ners.in/.
    He added that if anyone is unable to send the requisite details at the given email or portal, such details could be sent at WhatsApp number 97799-20404. However, he clarified that 112 number should only be dialled when one is not able to send information on the above mentioned platforms.
    In addition, he added that the NRIs/foreign travellers should have to submit their details such as their date of arrival in Punjab as well as the name of the Airport where they landed including the date of landing.
    Besides this, they have to submit the information pertaining to places of visit in Punjab and their passport number along with their name and contact details such as mobile number, landline number and email-id. They should also furnish their permanent address as per mentioned in their passport, stay in hotel if any and present address where they are residing, he added.
RURAL DEVELOPMENT & PANCHAYATS DEPARTMENT OFFICIALS SPEARHEADING AWARENESS CAMPAIGN IN RURAL AREAS
•    VILLAGES BEING SANITISED WITH SPRAY OF SODIUM HYPOCHLORITE 
•    OFFICIALS VERIFYING FOREIGN TRAVELLERS GOING DOOR TO DOOR IN VILLAGES
Raikot (Ludhiana): With an aim to check the spread of Novel Coronavirus (COVID 19) in the district, the officials of Rural Development & Panchayats Department Punjab are spearheading an awareness campaign in all rural areas of Ludhiana. Whereas in urban areas of the district, the District Administration is carrying this awareness campaign with the help of several NGOs, Social/Religious/Industrial organisations.
    During a visit to the rural areas of the district, it was witnessed that distribution and spraying of Sodium Hypochlorite mixture was being done to sanitise the villages. Besides, the officials of the department are also verifying the foreign return travellers/NRIs by going door to door in all villages of Ludhiana. Upon verification, special stickers are being pasted outside their houses so that other people do not come in contact with them.
    While providing information, Block Development & Panchayat Officer (BDPO) Raikot Mrs Rupinder Kaur and BDPO Ludhiana Mr Jaswant Singh Braich informed that during their drive, they are also distributing food and ration amongst people from weaker sections of the society as well as daily wage labourers. They said that the shopkeepers are being made aware that they should follow the guidelines of Punjab government and should not open their shops and do not let people gather at one place. They said that people are also being made aware about social distancing, besides services of residents as well as panchayats are also being taken in this regard.
City Round-up/A photo-feature-by AJAY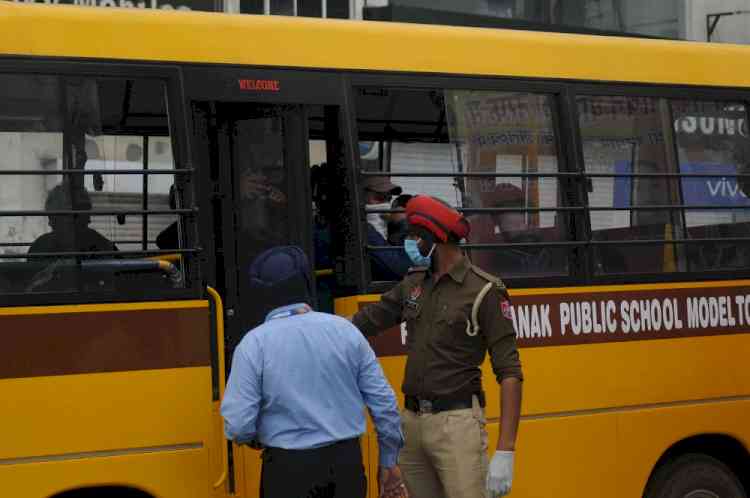 The police personnel conducting surprise check of curfew passes from those travelling in a school bus on city roads.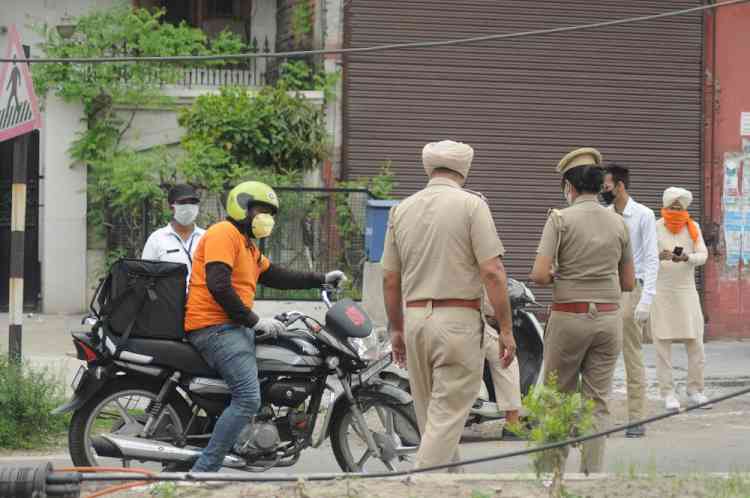 The police personnel conducting surprise check of curfew passes from two-wheeler riders on city roads.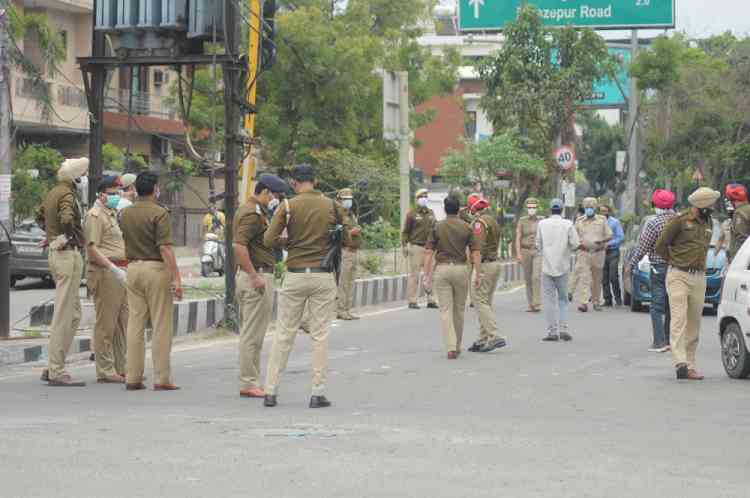 The police personnel conducting surprise check of curfew passes from vehicle drivers on city roads.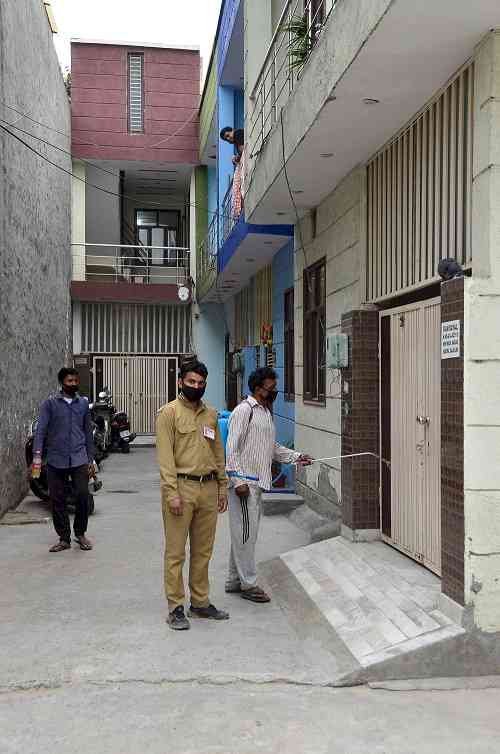 Door-to-door sanitisation being carried on by the administration in Ludhiana.