Lasting Legacy of Gandhi by Ma Santosh Kumar unveiled in Delhi
Alphons Joseph Kannanthanam (IAS Retd) praised CAA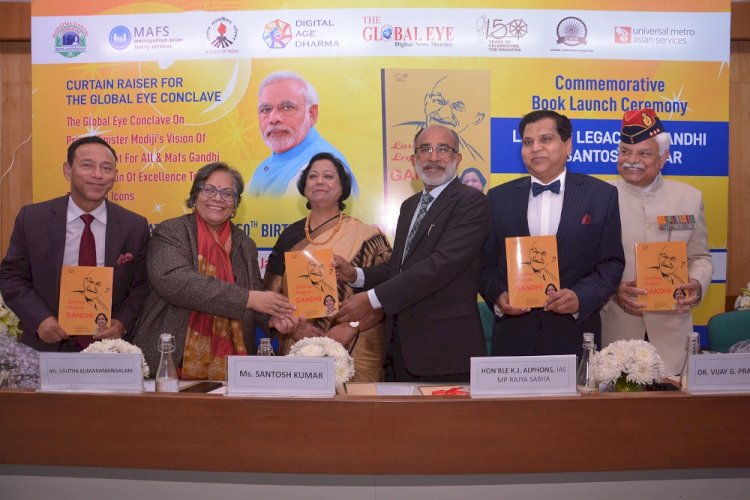 New Delhi: Mahatma Gandhi Sesquicentennial Birth Anniversary Celebrations Committee 2019-2020 organized commemorative book launch ceremony Lasting Legacy of Gandhi- Ma Santosh Kumar and the curtain raiser for February 2020 event The Global Eye Conclave on Prime Minister's vision for Development for all & MAFS Gandhi 150th Medallion of excellence to Indian Icons. The book Lasting Legacy of Gandhi- Ma Santosh Kumar is written by Shri Ramesh Dikshit.  Talking about situation in various universities after CAA & NRC, "Students should not come in these things as they are not aware of facts. They are being used by people with vested interests. It is not good for our country," said Ma Santosh Kumar.
Chief Guest Shri K J Alphons (IAS Retd), Member of Parliament, Rajya Sabha & Member Parliament Standing Committee External Affairs, praised PM Modi for Citizenship Amendment Act and said that the Act is in the interest of the country. Praising the book on Gandhi he said that the students or people protesting in various parts of the country should follow the ideals of Gandhiji.
Known as 'Mother Teresa of Chicago', she has given space to PM Modi and Gandhiji in her book. "There are so many similarities between Gandhiji and PM Modi. And the biggest similarity is the focus on cleanliness. Modiji is doing good work and we have got a leader who is right for the country as he is trying hard to bring back the Indian culture. There are difficulties but it will be done," she said.
Mrs. Santosh Kumar is the Founding Executive Director of Metropolitan Asian Family Services, Chicago USA and is known as Mother Teressa of Chicago. She has notched up a new record by planning to serve 10,000 immigrants from India, Pakistan, Bangladesh, Nepal, Sri Lanka and east European countries. She has been honored by a number of organizations for her charitable deeds. She was invited to address White House Council on Aging and on cultural issues in the US held in Chicago USA. American peers have hailed her as "Wonder Women" and in India she has prestigiously been declared as "Mother Teresa of Chicago" by then Counsel General Shri Ashok Kumar Attri and Shri Shahid Siddiqui, President AMU Alumni in 2010.
As she is serving old people in United States of America, she said, "We have forgotten of our culture where we have to take care of older generation. As young generation is generally busy in handling finances, it was the older generation which used to instill cultural values in children and this trend is waning. The chain has been broken where our traditions were passed on to the newer generation and now the young ones are adopting Western Culture, which is not bad but young generation is not taking good things from them."
"This book is for young generation and also for old generation to understand that we are from the country where Gandhiji taught us about cleanliness, non-violence, no untouchability, and that we are all one. Children should be made aware of these things.
Many other distinguished guests were also present on the occasion including Dr (Lt General) Ved Chaturvedi, Shri Adarsh Shastri, MLA of Delhi Legislative Assembly; Lalitha Kumarmangalam, Director India Foundation; Dr Parvez Hayat, Chairman Organizing Committee; Dr Vijay Prabhakar, Chairman The Global Eye and many more.