Languages development depends on translation
Two weeks online refresher course concludes at PU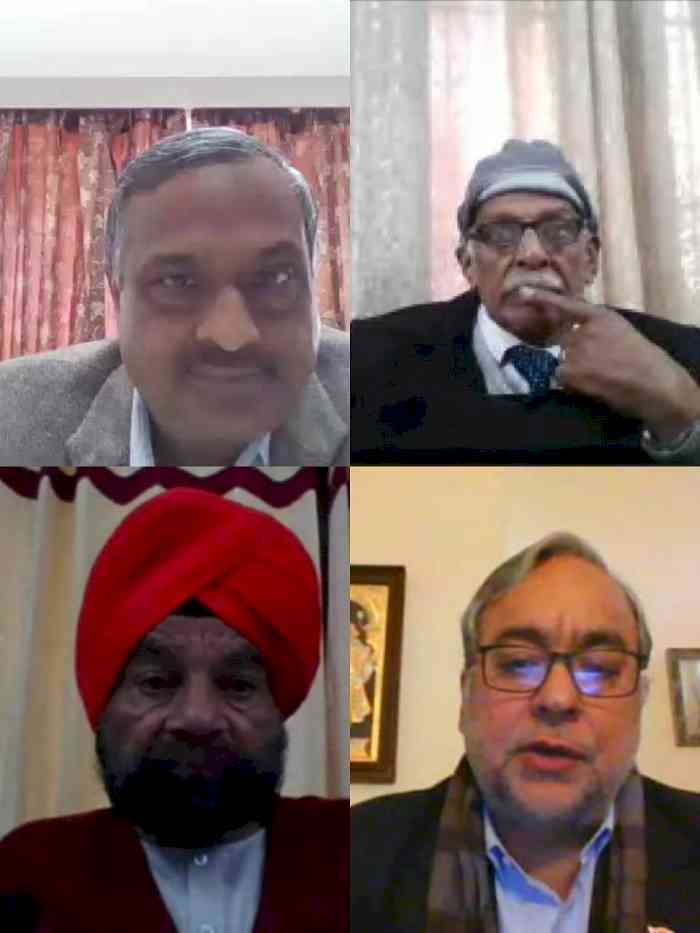 L-R: Prof SK Tomar, Dr Chandra Trikha, Sh HS Bedi and Prof Gurmeet Singh.
Chandigarh: Vitality and progress of a language depends a lot on the translation of its texts into various other languages and vice-versa. So, we must not undermine the role of translation. This significant understanding regarding translation came to the fore during the deliberations of a two week-long refresher course  for teachers of Indian languages, organized by the UGC-HRDC, Panjab University, Chandigarh. This was the first of its kind an online refresher course on the theme "Culture of Translation and Translation of Culture '' held at Panjab University, which concluded today. In the concluding session of the course, Prof Harmohinder Singh Bedi, Chancellor, Himachal Pradesh Central University, Dharmshala was the keynote speaker, while Dr Chandra Trikha Director Haryana sahitya academy, Panchkula, was the chief guest. HRDC Director, Prof S. K. Tomar also graced the occasion.
Speaking on the occasion, Dr Chandra Trikha , highlighted the significance of translation, and said translation not only helps in growth of languages but also saves them. He cited the example of Urdu adab in this regard. 
Prof Bedi in his key note address said that through translation, the rich treasure of knowledge embedded in various Indian languages, can be shared with the world.
The refresher course coordinator, Associate Prof in Hindi Dept, Dr. Gurmeet Singh presented the report at the conclusion of the course and also expressed his optimism that participants returning to their places, will extend to their students their enriching experiences pertaining to the diverse dimensions of translation deliberated upon during the course. And this will help in flourishing such a rich culture of translation, that will culminate into the development of Indian languages in unison. He informed that more than 30 experts from India and abroad were invited as resource persons. These include Prof. Shiv Kumar Singh (Pourtgual), Prof. Anand Vardhan Sharma (Bulgaria), Prof BS Dahiya( former VC ,KU) Mr. Vinod Sandlesh (Joint Director Central Translation Bureau, New Delhi), Prof. Prabhakar Singh (BHU, Banaras), Prof. Shashi Mudiraj (Hyderabad), Prof. R. Shashidharan (Kochi, Kerala), Dr. Vijay Laxmi (Manipur), Mr. Balendu Sharma (Director, Microsoft) Dr. Dhananjay Chopra (Allahabad), Prof Dinesh Chamola(Uttrakhand), Prof Khalid Javed and Prof Dilip Shakya( Jamia, Delhi) , Dr Rajinder Sain (Bhatinda) among others.