KVK Solan bags Best KVK Award in Himachal
KVK Lahaul and Spiti II second in presentation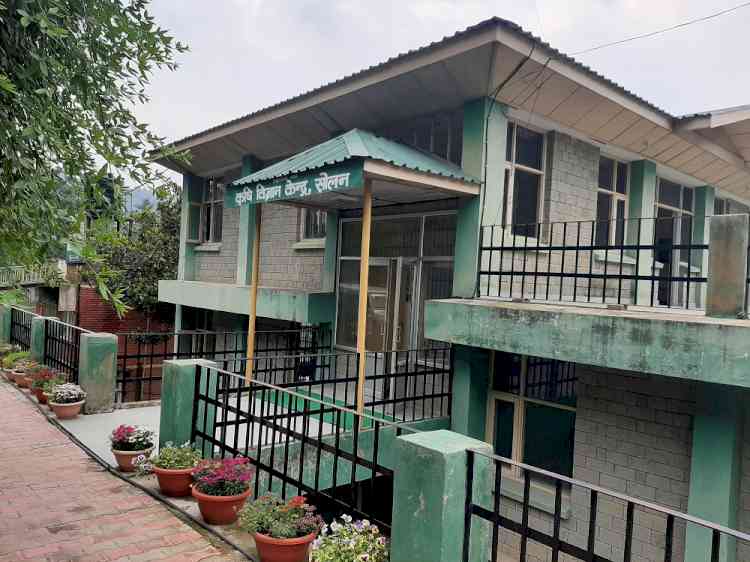 Nauni (Himachal Pradesh): Two Krishi Vigyan Kendras (KVKs) of Dr YS Parmar University of Horticulture and Forestry (UHF), Nauni bagged awards at the Annual Zonal Workshop of the KVK (Zone 1) held at Ludhiana earlier this week. The KVK of District Solan located at Kandaghat bagged the award for 'Best Krishi Vigyan Kendra' in Himachal Pradesh while KVK Lahaul & Spiti II at Tabo stood second in 'Presentation'. Both the KVKs are run under the management of UHF.
 
The awards were announced by ICAR at ATARI, Ludhiana during the online annual workshop of Krishi Vigyan Kendras of Himachal Pradesh, Jammu Kashmir and Uttarakhand. The objective of the workshop was to review the work of 69 KVKs under Region-1 and to approve the outline of work for the coming year. Kailash Chaudhary, Hon'ble Minister of State for Agriculture and Farmers Welfare, was the Chief Guest while Dr. Trilochan Mohapatra, DG ICAR attended the programme as a special guest.
 
During the two-day workshop, discussions were held to strengthen the KVKs for the implementation of various activities in the era of Covid-19 epidemic. All the KVKs submitted their report based on which KVK Solan was awarded the first prize in Himachal. Dr DP Sharma, In-charge of KVK Solan, applauded all the scientists and staff of the KVK and thanked Vice-Chancellor Dr. Parvinder Kaushal and Director of Extension Education Dr. PK Mahajan for their guidance. Dr. Sharma said that the KVK has taken several initiatives in the last few years, which have helped it to bag the award. Last year, the KVK successfully organized three state-level farmer fairs in the district under Jal Shakti Abhiyan. The establishment of a high-density apple rootstock plantation of new varieties is helping to promote crop diversification among the farmers of the lower areas of the district. The KVK has also helped to establish several progressive farmers in the region who have become an inspiration for the youth. Two young farmers of Solan represented Himachal at the Indian Farmers Science Congress. 
 
KVK Tabo is promoting low-cost eco-friendly farming techniques of pea and apple, establishment of high-density apple plantation, value addition of local products and community approach. The KVK also plans to explore the possibilities of saffron cultivation in the Spiti valley.
 
UHF Vice-Chancellor Dr. Parvinder Kaushal, Director Extension Education Dr. PK Mahajan and other officials congratulated the team of both KVKs. Dr Kaushal said that it was a matter of great pride that the KVKs run by the university have secured top rank in the state for a second consecutive year. He added that this award will motivate all the KVKs and regional stations to make inspired efforts in the future.