Kular inaugurates smallest spectrometer in MachAuto Expo 2020
Portable spectrometer has been launched only for Rs 4.5 lakh in India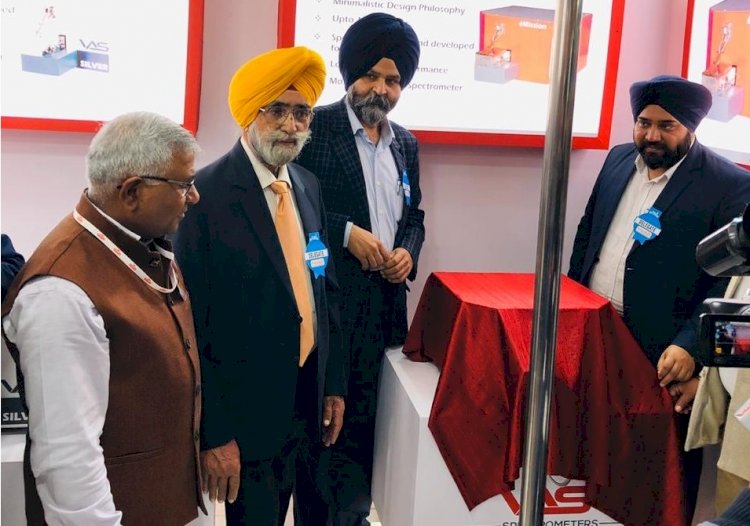 Ludhiana: Gurmeet Singh Kular, President, FICO (Federation of Industrial & Commercial Organization) inaugurated the Smallest Spectrometer in MachAuto Expo 2020 in Ludhiana.
Manufactured by VAS Spectrometers Mumbai developed the World's Smallest Spectrometer for analyzing Steel/ Cast Iron. This spectrometer is specifically designed for MSME industry, as this product is available for only INR 4.5 Lakhs, when compared to other spectrometers ranging from 30 to 50 lakhs. It is designed keeping the MSME Sector in Vision said Gurmeet Singh Kular President FICO.
The Portable Spectrometer has been launched only for Rs 4.5 lakh in India for the first time, it will give the major boost to the industry, especially the MSME Sector, said S. Ashpreet Singh Sahni Head FICO Agriculture Division.
A spectrometer is a scientific instrument used to separate and measure spectral components of a physical phenomenon. This specially designed Spectrometer can inspect the content of the 14 elements including carbon in Steel/ Cast Iron, said Gagnish Singh Khurana Executive Member FICO
The 9th edition of MACHAUTO-EXPO is going on at GLADA Grounds Ludhiana. MachAuto Expo focuses basically on Engineering Machinery, Machine Tools, Auto Parts, Hand Tools, CNC Machines and SPMs, Automation Technology and many more. With more than 550 Exhibitors, more than 50000 expected visitors 1200+ brands are exhibition their 10000 plus products under one roof at MACHEXPO 200.
 
Amongst Present were Gurmeet Singh Kular President FICO, Ashpreet Singh Sahni Head Agriculture Division FICO, Gurpargat Singh Kahlon, Ajay Pal Singh Sr. Manager NSIC, Vishal Bhardwaj NSIC, Gagnish Singh Khurana Executive member FICO, G.S. Dhillon Organizer MachAuto Expo 2020.