K'taka BJP takes potshots at Congress over power-sharing tussle
Karnataka BJP on Tuesday took potshots at the newly-formed government over the statements by Congress party leaders on power-sharing.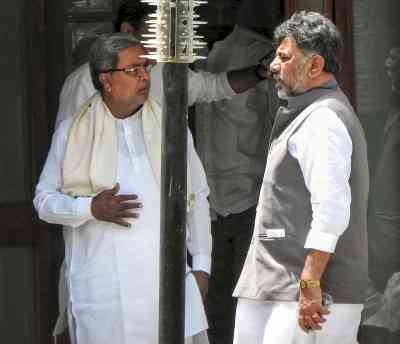 Source: IANS


Bengaluru, May 23 (IANS) Karnataka BJP on Tuesday took potshots at the newly-formed government over the statements by Congress party leaders on power-sharing.
"Shivakumar will never become CM. Siddaramaiah will never allow him to become the CM," the BJP commented on Twitter.
"M.B. Patil through his statement (Siddaramaiah will be CM for full tenure) has sent a direct warning to D.K. Shivakumar. However, even after the Congress has obtained a majority, there are no signs that this government is going to be stable after seeing all the developments in this regard," the party remarked.
The BJP has dubbed the Congress government as 'ATM sarkar'. "It is a tragedy for the state that this government is formed with only the condition of supplying funds to the high command and it is going to be the priority," the saffron party claimed.
The BJP has also tagged the video of cabinet minister M.B. Patil in which he announced that Chief Minister Siddaramaiah is going to complete the five-year tenure and there is no power-sharing.
The statements of M.B. Patil has triggered a row in the state. Reacting to the row, Shivakumar on Tuesday curtly stated that he should not be disturbed. Shivakumar looked disturbed and maintained distance from media persons.
When his statements triggered a row and raised speculation in political corridors, M.B. Patil on Tuesday said that he has not made any personal comments over the issue. "I have reiterated what senior leaders announced in the press conference," he said.
Sources said that Shivakumar is upset over the remarks and his media statement 'don't disturb me' was aimed at M.B. Patil.
Priyank Kharge, a cabinet minister, reacting over the statement, explained that the statements on power-sharing by M.B. Patil was irrelevant. "No one knows the details of the discussion between them. It is known only to CM Siddaramaiah, DyCM D.K. Shivakumar, Karnataka in-charge Randeep Singh Surjewala and AICC General Secretary K.C. Venugopal.
"The legislature meeting did not discuss power sharing. I don't know what information M.B. Patil has it. I can tell what I know," he maintained.
Siddaramaiah got miffed at the questions of the media about power-sharing at the Delhi airport last week and asked the media on who gave them the information on this?
Siddaramaiah is known for bulldozing feudal, majoritarian decisions and fully stands with Dalits and OBCs. However, it is going to be difficult for him to take unilateral decisions this time as Shivakumar, representing the dominant Vokkaliga community, is the Deputy Chief Minister and state party chief.