Krishna Janamashtami celebrated at ISKCON temple in Chandigarh with pomp and show
Thousands of devotees offered prayers at the temple, which was decorated with variety of beautiful flowers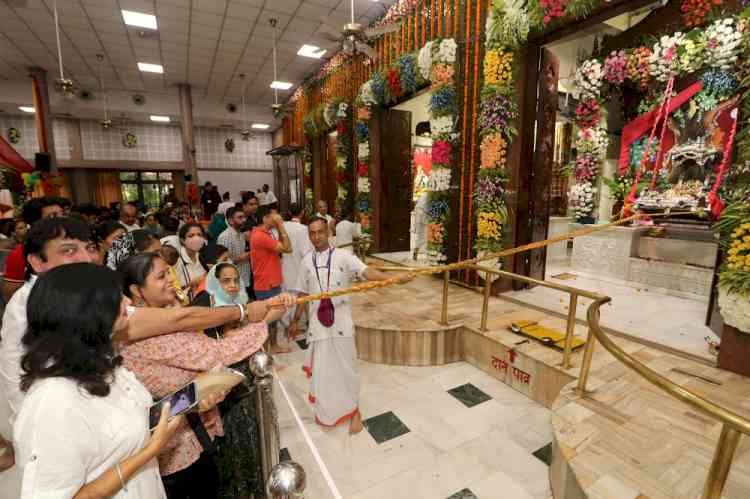 Chandigarh, August 19, 2022: The International Society for Krishna Consciousness (ISKCON), Chandigarh celebrated Sri Krishna Janamashtami festival in a marvelous and unprecedented way on Friday.
Shri Krishna Janamashtami , which is celebrated on the midnight of the eight day of waning moon (Ashtami tithi under Rohini Nakshatra), is the appearance anniversary of Lord Krishna to mark His Descent to this world.
To celebrate the festival with pomp and show, ISKCON Chandigarh held a cultural program on the eve of the festival on August 18, presented by the children of Bhakta Prahlad School and Gopal Fun School. About 120 children performed 12 small skits, dances and other events.
On Janamashtami day, the temple hall was decorated with variety of beautiful flowers. Sri Sri Radha Madhava was also adorned with a brilliant new dress (traditional attire).
Hundreds of devotees offered prayers at the temple. Owing to continuous live streaming facility on Youtube and facebook, many other devotees celebrated the merciful event while sitting at their homes.
ISCKON Spokesperson Akinchan Priyadas and Co-President Prem Prabhudass informed that the Janamashtami celebrations began with Mangala Aarti of Sri-Sri Radha Madhava at 4:30 am followed by Tulsi Aarti, Nagar Kirtan in Sector 36, Guru-puja of His Divine Grace AC Bhaktivedanta Swami Prabhupada, the founder acharya of the International Society for Krishna Consciousness.
The celebrations concluded at midnight with a grand celebration of the birth of Lord Sri Krishna accompanied by an elaborate MahaAarati , which was performed as the devotees sang Sri Guruvastakam.