Kochouseph Chittilappilly's new book 'A Journey towards Hope' released
'A Journey towards Hope' is an autobiographical work set in two parts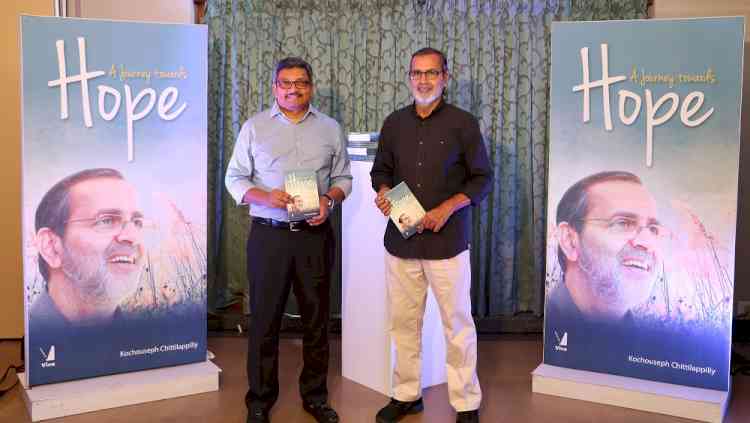 Chennai: Renowned industrialist and bestselling author Kochouseph Chittilappilly's new book 'A Journey towards Hope' has been released. Noted businessman Navas Meeran launched the book, 'A Journey towards Hope' delves into the events and experiences that touched Mr Chittilappilly and became a driving force of his thoughts, actions and philosophy of life. This is the sixth book among Chittilappilly's other inspirational works on management, life and memoir published both in English and Malayalam languages.
 
'A Journey towards Hope' is an autobiographical work set in two parts. One begins with the author's journey in search of job after college and the second part is recollection of his childhood memories of growing up in an ordinary agricultural family, which hold a special place in his heart. The chapters paint vivid memories of starting out on his own venture and the experiences and lessons from the journey of life as a businessman and as a human being to becoming the Kochouseph Chittilappilly as society knows him today.
 
Born into an agricultural family in Kerala, Kochouseph Chittilappilly rose to become one of the most recognized industrialists of the country and is widely respected for his philanthropic and charitable work. He holds a master's degree in Physics and began his career as a supervisor in an electronic company. At the age of 27, he started a modest SSI Unit manufacturing and selling stabilizers with just two workers. Now V-Guard is a listed company with various electrical, electronic and electromechanical products. He also founded a chain of amusement parks named Wonderla, which is also a listed company, and a real estate venture, Veegaland Developers.
 
A kidney-donor himself to a stranger, Chittilappilly champions organ donation and has founded the charity K. Chittilappilly Foundation. He has received numerous awards and recognitions for his contributions in business and philanthropy.