KMV's budding journalists honoured by Prof. Dr. Atima Sharma Dwivedi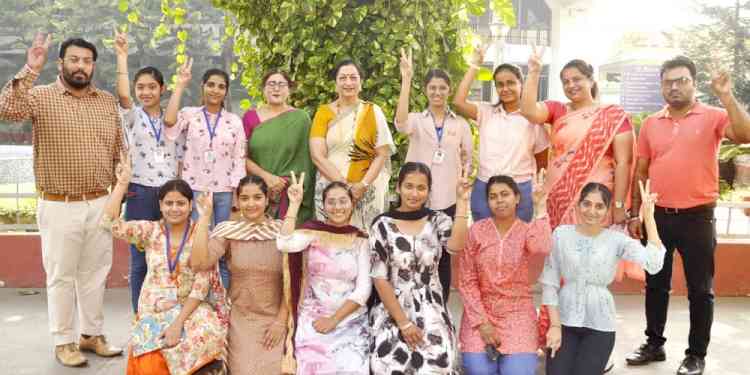 Jalandhar, October 25, 2021: Kanya Maha Vidyalaya (Autonomous) always strives to provide its students with a progressive environment in which the students excel in their respective fields. In the same vein, the students of Post Graduate Department of Journalism and Mass Communication are receiving much acclaim for their contributions to various forms of media. Recently, Principal Prof. Atima Sharma Dwivedi honoured all the students who have been contributing immensely in social development and imparting meaningful thinking to the people with their writings that are being published daily in various newspapers. Students named Davinder Kaur, Agam Garg, Sakshi Sharma, Kirandeep Kaur, Manpreet Kaur, Jasmeen Kaur, Palwinder Kaur, Ishmit Kaur & Rupinder Kaur are among the achievers. On the occasion, Madam Principal lauded all the students for their outstanding performance in their field and averred that KMV is providing world class practical education to the students so that they can excel in their respective fields. She further maintained that the state of the art infrastructure available for the students in the department in the form of audio & video studios & the guidance given to the students by the teachers is enabling them to make their mark in the media world. It is pertinent to mention that after getting education from KMV, the journalism students are successfully performing their services in various media channels, newspapers & online channels etc. 
Principal lauded the efforts of all the faculty members of PG Department of Journalism & Mass Communication for providing the proper guidance to the students.