KMV organizes weeklong free online innovative numerical skill development classes on Vedic Mathematics
Great initiative to generate awareness about Vedic Mathematics among young generation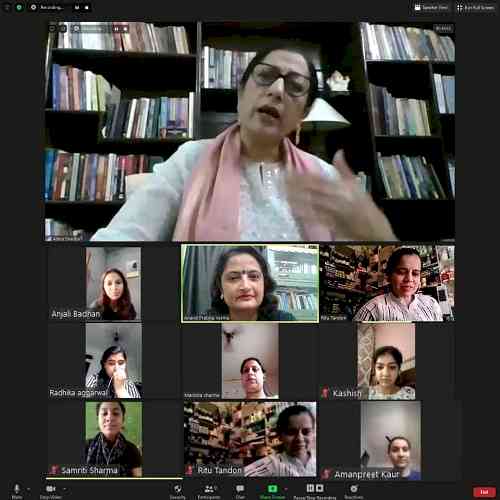 Jalandhar: Kanya Maha Vidyalaya (KMV) organised one week free online innovative numerical skill development classes on Vedic Mathematics. The classes were organised byPG Department of Mathematics. The main objective  of this program was to drain out the phobia of maths, to develop  numerical skills and to aware the participants about rich Vedic heritage of India.Mrs. Anand Prabha, Assistant Professor, PG Department of Mathematics was the  expert who took one week long classes. She enhanced the mental ability of the participants through shortcuts in multiplication which can be performed within 5 seconds. She enlightened that even the calculator is not able to perform some bigger calculations but a human brain can do it by practising Vedic Mathematics. More than 90 participants including teachers from reputed schools of Punjab and students of+1,+2, B.Sc (CS,NM,ECO), B.Sc(Hons.Maths), B.Sc (Hons. Physics), M.Sc(Chemistry), M.Sc(Maths) attended this magical course.
Principal Prof. (Dr.) Atima Sharma Dwivedi averred that Vedic Mathematics is the most easiest way to do calculation & it is also part of the rich heritage of our country. She further maintained that this initiative of mathematics department is very important as it will create awareness among the young generation about the Vedic Mathematics. 
Principal also lauded the efforts of Mrs Veena Deepak, Head, PG Department of Mathematics and Mrs Anand Prabha for this wonderful initiative.