KMV organizes research board meets to review and allocate seed money research projects
Remarkable initiative to promote research among faculty and students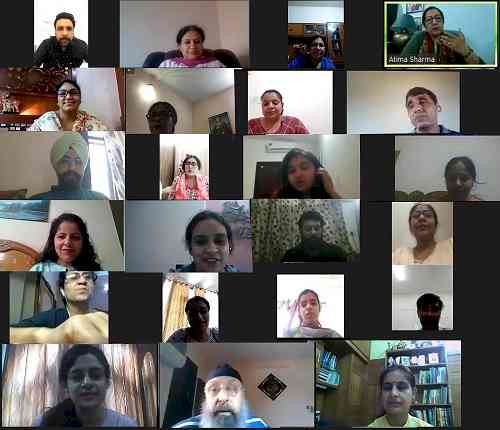 Jalandhar: Kanya Maha Vidyalaya- the Heritage & Autonomous institution, Jalandhar, Ranked No.1 in India by India Today Ranking, 2019 (Various Categories) has always been committed to develop intellectual base through quality research of both faculty and students. In this endeavor, the Research Cell of the college reviewed the progress of Seed Money Research Projects allocated in 2019 & also invited new research proposals from faculty as well as student fellows from various departments for the Seed Money Research Project.
The Research Board meeting was chaired by Principal Prof. (Dr.) Atima Sharma Dwivedi. Department of Chemistry, Department of Journalism & Mass Communicatio, Department of Commerce, Department of Mathematics and Department of English gave their presentation to the research board. Dr Gagandeep Singh from Punjabi University College, Benra, Dhuri. Dr. Ranbir Singh from PTU Jalandhar Campus, Dr. Roopali Batra from  from PTU Jalandhar Campus and Dr. Raghaw Raman Sinha from NIT Jalandhar and Dr. Sunit Kaur from APJ College of Fine Arts reviewed the progress of research projects as experts. Dr Manju Sahni and Mrs Narinderjit Kaur from the Department of Chemistry presented their progress on the topic ' Effect of different solvents on reverse micellar extraction of dye from textile effluent', Mr Sehajpal Singh from the Department of Journalism & Mass Communication presented his report on the topic 'The Role of Media in Higher Education', Ms Rashmi Bindra and Ms Namita Kochar from the Department of Commerce presented their report on the topic 'Social Networking Sites: A Comparative Study of Youth Belonging to Urban & Rural Area'.  Dr Monika Rani and Ms Natasha Sharma from the Department of Mathematic gave presentation on the topic 'Solution of non-linear differential equations using non-perturbation methods'.
Dr. Radhika Gupta and Ms. Priya presented their report on "Application of Erikson's theory: A Psycho-Social Perspective on Saadat Hasan Manto's Selected Works". After these presentations, Department of Physical Education, Department of Physics, Department of Journalism & Mass Communication and Department of Zoology gave their presentation for the new research projects to the research board. Dr Nishan Singh Deol from Punjabi University, Dr Davinder Paul Singh from GNDU Amritsar, Dr. Ranbir Singh from PTU Jalandhar Campus and Dr. Aneesh Kumar Dua from GNDU Amritsar evaluated the research proposals as experts. Dr Davinder Singh from Department of Physical Education presented his proposal on the topic "Assessment of Aerobic Fitness, Abdominal Strength, Body Mass Index, Socio-Economic Status Eating Orders and Decision Making among the Students of Different Streams of Kanya Maha Vidyalaya, Jalandhar". Dr. Surbhi Sharma and Dr. Neetu Chopra from Department of Physics presented their proposal on the topic "Structural, Optical and Thermal Studies of Lithium Boro-tellurite Glass Doped with Samarium Trioxide and Praseodymium Trioxide for Fibre Optics Communication".
Mr Palwinder Bhatia from the Department of Journalism & Mass Communication presented his research proposal on the topic "Effective use of Media for Health Communication: A Study of Jalandhar". Dr. Nalini Singh Chauhan from Department of Zoology presented her proposal on topic "Bioefficacy of Plant based Compounds in Controlling the Insect Pest" and Dr.Prabha & Dr. Archana Saini from Department of Zoology presented their proposal on topic "Evaluation of Plastic Pollution in Fresh Water Ecosystems". After the presentations, the board gave valuable suggestions to the researchers and the proposals of the above mentioned faculty members were shortlisted.
Principal lauded the efforts of Research Cell of KMV and inspired the teachers to involve students in advance research. She further maintained that the involvement of faculty in these research activities will result in the enhancement of their knowledge and will also update them regarding their subject which will be of great benefit to the students. This noble initiative of KMV is bound to elicit excellent results.