KMV ORGANIZES CALLIGRAPHY COMPETITION
MOTIVATE STUDENTS TO CHANNELIZE THEIR CREATIVITY WHILE STAYING AT HOME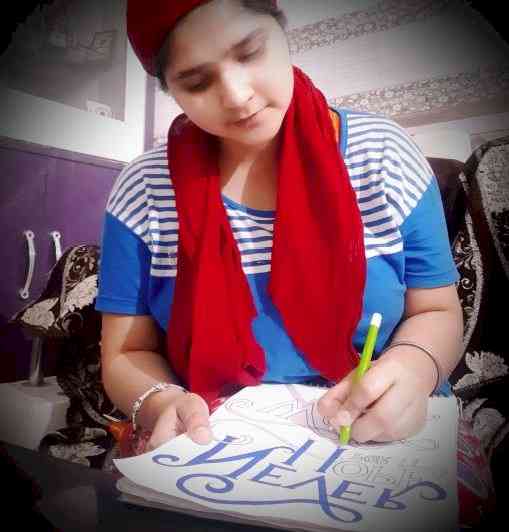 Jalandhar: In order to keep the negativity at bay and to motivate the students to explore their creative aspect, Kanya Maha Vidyalaya(KMV) organized an Online Calligraphy Competition. The competition was organized by the Department of Student Welfare. The competition was held online in which students from their home participated with full zeal and enthusiasm. Students shared their calligraphies online under the hashtag #KMV KARES. 
Principal Prof. (Dr.) Atima Sharma Dwivedi averred that the students of KMV are fully rounded personalities and they always participate in plethora of meaningful activities organized by the college for their holistic development. In the days of lockdown, where students are at their home, they are maintaining a balance between their studies and other activities. Competition like this enhances the overall personality of the students and also motivates them to channelize their energy for creative pursuits. 
Principal lauded the efforts of Dr Madhumeet, Dean, Department of Student Welfare and other faculty members for motivating the students to participate in this noble initiative. Dr Manju, Dr Neetu, Dr Sabina and Ms Mani were the judges for the competition.
RESULTS  OF  CALLIGRAPHY COMPETITION:
Ist:      Auleen- BCA Sem II
           Rimisha BCom Hons Sem II
           Muskan Mehta BA Sem IV
IInd :   Mitangi BCom Hons Sem IV
            Vibhuti Sharma BSc Non Medical 
             Venical Verma BCom Hons Sem IV
IIIrd:    Kashvi BCom Sem IV
             Anshuman BSc Sem IV
             Tania BCom Hons.
Consolation: Shilpa BCA Sem IV
                      Kulwinder BA Sem IV