KMV organises various attractive stalls on occasion of Karva Chauth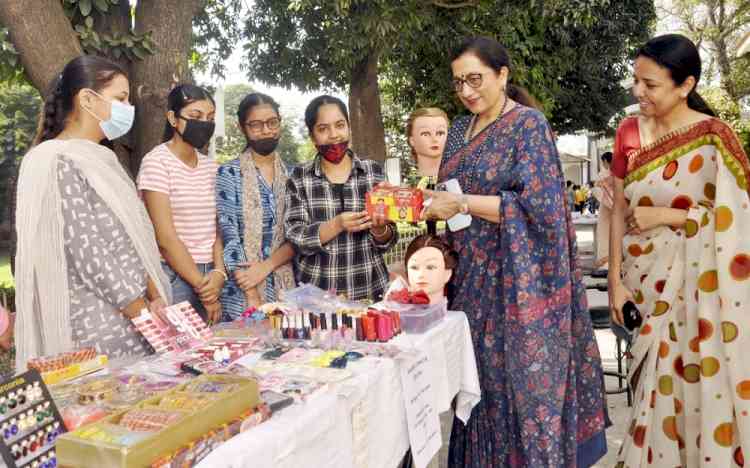 Jalandhar, October 23, 2021: Kanya Maha Vidyalaya ( Autonomous) celebrated Karva Chauth. On this occasion, stalls of various attractive items were set up jointly by the Department of Cosmetology, Fashion Designing Department and Retail Management Department for two consecutive days. While the Cosmetology Department introduced different forms of decoration items, the hands of girls were also decorated with different designs of mehndi and nail art. Along with this, Department of Retail Management set up a special stall under the banner of Budding Entrepreneurs to develop entrepreneurial skills like Customer Handling, Stock Handling, Visual Merchandising, Stall Layout, Inventory Management & Record Management etc. Mehndi, photo frames, gift items, jewellery, bangles, masks & beautiful carry bags etc. were also sold in this stall. Apart from this, the students of Fashion Designing once again used the extravagant items and displayed jewellery items related to the festival like ear rings, bracelets & neckpieces etc. 
Principal Prof. Dr. Atima Sharma Dwivedi while congratulating the students for their efforts also congratulated each and everyone on the festival of Karva Chauth. Madam Principal lauded the efforts of all the faculty members for successfully organising the celebrations.