Principal's inspiring address instills positivity and confidence in students
KMV organizes webinar for the 10+2 students of collegiate school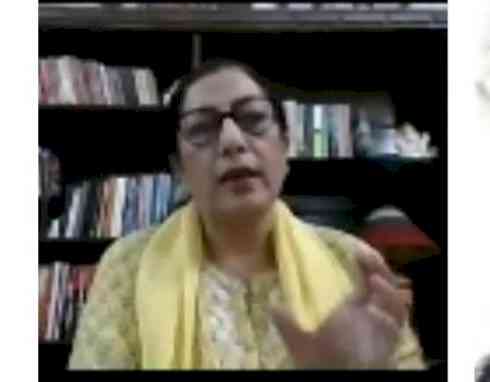 Principal Prof. (Dr.) Atima Sharma Dwivedi.
Jalandhar: Kanya Maha Vidyalaya- the Heritage & Autonomous institution, Seat of Women Empowerment, Ranked No.1 in India by India Today Ranking (various categories) organized a webinar for 10+2 students of KMV Collegiate School. 
The Webinar was delivered by Principal Prof. (Dr.) Atima Sharma Dwivedi in order to address the various queries of the students. 
During the webinar, Principal Prof. (Dr.) Atima Sharma Dwivedi asked the students to stay positive in this crucial time. She inspired students to explore their creativity and hidden talents while staying at home. She averred that students should not feel any kind of anxiety or depression due to the postponement of their final examination as college will take care of this matter in the most proper way. She assured the students that KMV has a very well organized and user friendly Learning Management System & every student is free to contact her teacher regarding any kind of query as teachers are very much committed for the academic growth of the students. The webinar session was very much interactive as the question and answer session was also held in which the students asked their queries regarding the present situation to which Madam Principal responded positively and also assured the students that they should leave all their doubts and anxiety aside. In her concluding remarks, Prof. (Dr.) Atima Sharma Dwivedi averred that it is only because of active involvement of all the teachers who gave a clear direction to all the students that the students have not only excelled in their studies but have also participated in various meaningful activities organized by KMV such as online poster making competition, photography competition, creative writing competition, book review competition & poetry competition etc. and have achieved the recognition at state level & national level. 
The webinar ended with a positive note as Principal appreciated the efforts of all the students who have worked tirelessly for various social causes in this challenging time and students were also very much contented after talking to Principal. Madam Principal lauded the efforts of      Dr Madhumeet, Dean, Department of Student Welfare, Ms Vina Dipak,  Co-ordinator, KMV Collegiate School, Ms Anand Prabha & Ms Rajni Marwaha for organizing this webinar for the students.