KMV gives Award of Excellence in Research to its faculty members
A Remarkable initiative to Promote Research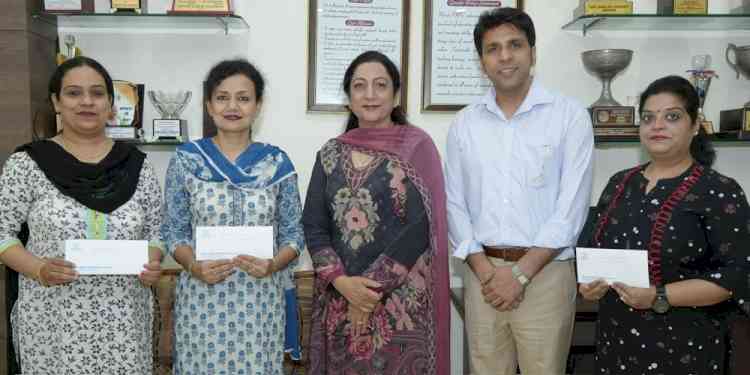 Jalandhar, May 27, 2023: Kanya Maha Vidyalaya (Autonomous) has always been committed to develop intellectual base through quality research of both faculty and students. 
In another initiative to promote research among its faculty, three members of the faculty were given award of excellence in research for the session 2020-21 and 2021-22. For the year 2021-22, Dr. Rashmi Sharma from the Department of Commerce is awarded under the senior category and Dr. Pratima Mahendru from Department of Psychology is awarded under the junior category.  
Rashmi Bindra from the Department of Commerce is awarded for the year 2020-21. The Award of Excellence in Research contains a cash award of Rs.10000 and an award letter. 
Principal Prof. Dr. Atima Sharma Dwivedi congratulated the faculty who are awarded for their outstanding achievement. She averred that the involvement of faculty in these research activities will result in the enhancement of their knowledge and will also update them regarding their subject which will be of great benefit to the students. 
Principal lauded the efforts of Research Cell of KMV for this brilliant initiative.