KMV COMMENCES WEBINAR SERIES ON EDUCATION NOW AND ONWARDS
PRINCIPAL ADDRESSES THE FIRST EPISODE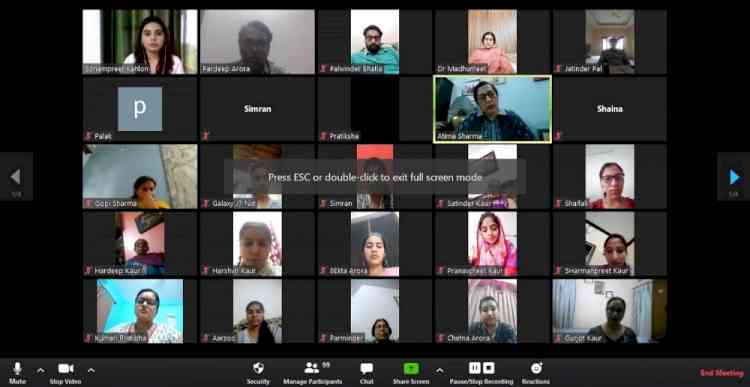 Jalandhar: In a novel initiative, Kanya Maha Vidyalaya(KMV) commenced a Webinar Series on "Education Now and Onwards". The inaugural episode of this webinar series on the topic "Education through Present Predicament" was delivered by Principal Prof. (Dr.) Atima Sharma Dwivedi. 
During the webinar, Principal Prof. (Dr.) Atima Sharma Dwivedi averred that the Education Now and Onwards by KMV is a series of crucial conversations about new perspectives and contours of teaching, learning, leading and living in the times of COVID-19. Throwing a light on the progress of the college during the lockdown days, she averred that we have a very well organized and user friendly Learning Management System. The syllabus of all the courses has been completed by the teachers & we are very committed for the academic growth of the students. The process of education must not stop and it should carry on with the aid of new digital skills. She further maintained that we express our gratitude to the students for helping the society by participating in various social extension activities and reaching out to the public. She especially appreciated the efforts of Department of Student Welfare who is working tirelessly and engaging the students through various competitions. Question and Answer session was also held in which Dr Madhumeet, Dean, Student Welfare Department asked the queries of the students regarding the present situation to which Madam Principal responded positively and also assured the students that they should leave all their doubts and anxiety aside. She also assured that the next session will not suffer at any cost as teachers at KMV are working very hard for it. 
In her concluding remarks, Prof. (Dr.) Atima Sharma Dwivedi gave a message to all to be innovative and creative because now onwards the learning will mean to explore ourselves and to acquire new skills everyday as we are facing an unprecedented challenge today.