KMV bags prize in flower competition 
Principal Prof. Dr. Atima Sharma Dwivedi congratulated Botany Department on this achievement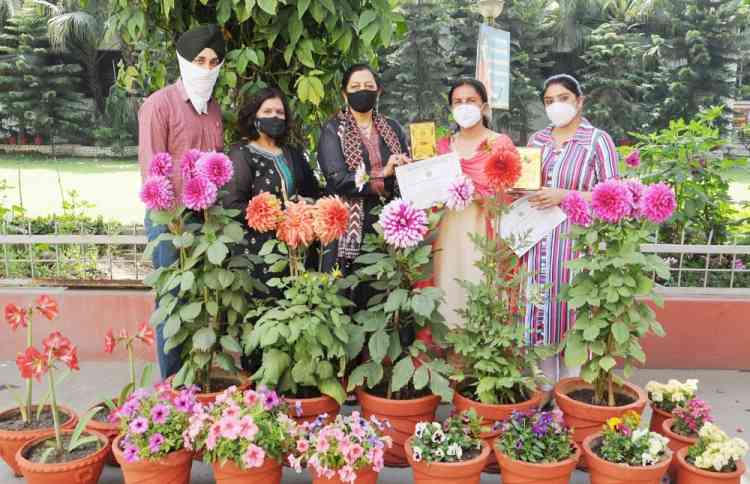 Jalandhar: Kanya Maha Vidyalaya- the Heritage & Autonomous institution, Seat of Women Empowerment with Top National and State Rankings by India Today Survey of Best Colleges 2020 (various categories) & Outlook Magazine participated in Flower Competition organized by Virsa Vihar, Jalandhar. PG Department of Botany participated in this competition with full zeal & enthusiasm & also bagged two positions in both flowering and foliage categories. During the competition, the plants selected for the competition were arranged in different categories of flowering and foliage plants. The name of the plants that were displayed by KMV are agloenema, defenbachia, dahlia, penzy, lily, kalanchoe,  asparagus, petunia and palm. Mrs. Gagan Kundra Thori, Deputy Commissioner (Income Tax) was the judge for the competition. She appreciated the plants displayed by Botany Department of Kanya Maha Vidyalaya. 
Principal Prof. Dr. Atima Sharma Dwivedi congratulated Botany Department on this achievement. She averred that it is very important to make people aware about the serious issue of environment and making them equal partners in the process of sustainable development. She further maintained that though the government is making tremendous efforts in this regard, we all as a citizen of this country should also contribute to this noble cause & should plant more & more trees to make the environment clean & green. 
Prof. Dwivedi averred that KMV strives to give practical knowledge to the students in the field of science and college also houses a large Botanical Garden where the students can learn about the different species of plants and flowers by observing them in their natural environment.