Khanna police claimed to have recovered 1 Kg 200 gms heroin
Two persons including a woman arrested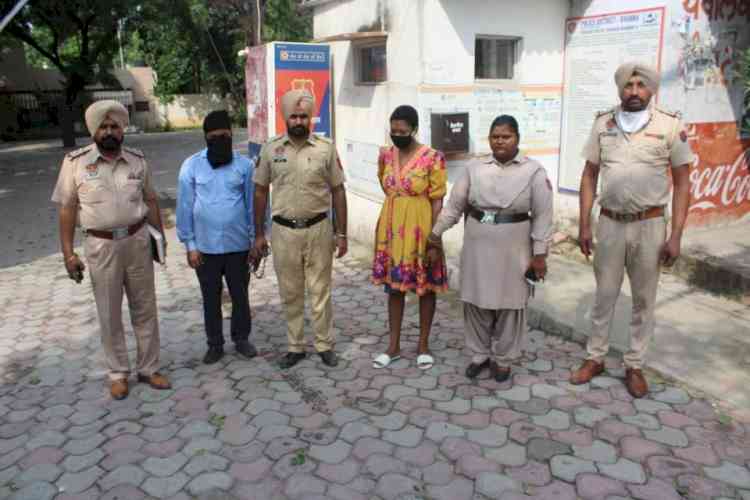 Khanna: Khanna police claimed to have recovered 1-Kg 200 Gms heroin from two persons. The alleged accused have been identified as Parwinder Singh, a resident of Delhi and Princess Chinoy, a resident of Nigeria. Both were residing in Delhi.
Gursharandeep Singh Grewal, SSP, Khanna has said in press conference that Khanna police have started a special checking in the view of upcoming Independence Day.  
SSP claimed that during the special checking Khanna police have achieved a huge success on dated August 8, 2021, under the supervision of Hardeep Singh, DSP Payal, SI Nachattar Singh SHO Doraha's SI Pawitar Singh along with police party had setup a nakabandi in the front of FCI Godown, G.T. road, Doraha.
SP added that during the checking, a taxi car Swift Dezire was coming from Khanna side, was stopped by police party and taxi driver was identified as Palwinder Singh r/o Ganesh Nagar Complex, Police Station Pandaw Nagar, New Delhi and the women sitting on back seat was identified as Princess Chinoye r/o Adieu Crescent, Ajao Lagos, Nigeria, presently in Uttam Nagar, New Delhi. 
During checking, 1 kilo 200 gm of heroin was recovered from the back seat of the car in polythene bag. A case FIR (No.125, Dt. 08.08.2021 U/S 21/25/61/85 NDPS Act PS Doraha) has been registered against the accused and they were arrested in this case. 
SSP further claimed that during initial investigation and questioning of the accused Princess Chinoye, it has come to light that she got this consignment of 1 kilo 200 gms heroin from Delhi and going to supply to some person of Amritsar. Earlier, this group has already delivered a consignment in the area of District Tarn Taran. The culprit is still being questioning, there is a possibility of major disclosures.