Khanna police claimed to have busted target killing gang 
The gang was operated from Germany and associated with KLF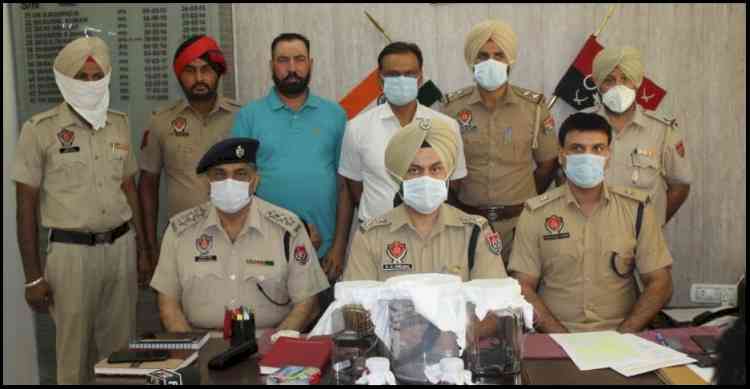 Khanna police officials during press conference.


Khanna: Khanna police claimed to have busted a target killing gang who was operated from Germany and associated with KLF(Khalistan Liberation Force).Three members of the gang nabbed by the Khanna police have been identified as Jaswinder Singh  and Jaspreet Singh of Banga of Ropar District and Gaurav Jain of Sirsa District. 
Addressing a press conference here today Khanna SSP Gurshandeep  Singh Grewal added that the Khanna Police have achieved a major success on July 4, 2021 and managed to bust a target killing module setup by foreign based (Germany) radicals associated with KLF organization. 
SSP claimed that acting on a tip-off, during checking of vehicles at strong naka Pristine Mall G.T Road Khanna, an Etios car bearing (No.PB-01-AS-6845) was stopped and three persons got out of the car, who tried to flee after firing one round on the police party. However, the police party successfully overpowered after a short chase on two persons while one person managed to flee from the spot. The two persons held up, identified themselves as Jaswinder Singh r/o Fatehpur Bunga PS Kiratpur Sahib District Ropar and Gaurav Jain @ Minku r/o house number 247 ward 08 near railway level crossing, Kaliawala PS Kaliawala District Sirsa. FIR (No.140 dated 04.07.21) u/s 379-B, 411, 34 IPC, 25 Arms Act PS City-2 Khanna was registered & IPC Section 307/332/336 were added during investigation. 
SSP added that the arrested accused further divulged the details of their accomplice, the person who managed to flee the Naka point at Pristine Mall GT road, Khanna, was Jaspreet Singh @ Noopi r/o Dadi PS Kiratpur Sahib District Ropar. 
SSP further claimed that with the assistance of technical and human intelligence, Khanna Police have also been successful in arresting the above mentioned Jaspreet Singh @ Noopi and another person namely Parshant Silelan @ Kabir R/o Ward no 68, Balmik Basti, Surajkund, Rambagh Meerut PS Civil Lines Meerut U.P. now at Dhanas Sector 38, Chandigarh

RECOVERY
Two .32 bore pistol alongwith four magazines, including 02 live cartridges and 01 spent round, one country-made weapon (desi katta) were recovered from aforementioned arrested persons. During investigation, it came to fore that the No.PB-01-AS-6845 on Etios car is fake and the arrested accused persons confessed to have snatched the vehicle at gun point on Airport Road, Zirakpur. In this regard, a case FIR (No. 373 dated 25.06.2021) u/s 379-B, 506, 34 IPC, 25-54-59 Arms Act is lodged at PS Zirakpur. 
Jaspreet Singh @ Noopi
During interrogation, Jaspreet Singh @ Noopi revealed that he was lodged in Patiala Jail under FIR no. 59, dated 02.06.2017 u/s 302,34 IPC PS Kiratpur Sahib district Ropar, he managed to jail-break and escape from Patiala Jail on 28.04.21 along with 02 other persons, namely Sher Singh r/o village PS Lopoke district Amritsar and Inderjit Singh @ Dhiana r/o Ranipur Komboa, PS Rawalpindi, district Kapurthala. 
After fleeing from Patiala Jail, he confessed that on dated 25.06.2021, he has snatched Etios car at gun-point on airport road, Zirakpur, and on 03.07.21 looted Rs. 50,000 from a petrol pump in Kharar, alongwith his associates. Also, he came into contact with foreign radical associated with KLF organization and they agreed to finance him in return for target killings. He approved of the same and even did recce on sensitive targets in Punjab. Foreign based (Germany) handler financially aided him through various digital payment platforms (Western Union, PayTm etc.) and sourced 03 weapons from Rudrapur, Uttarakhand to equip him for target killings.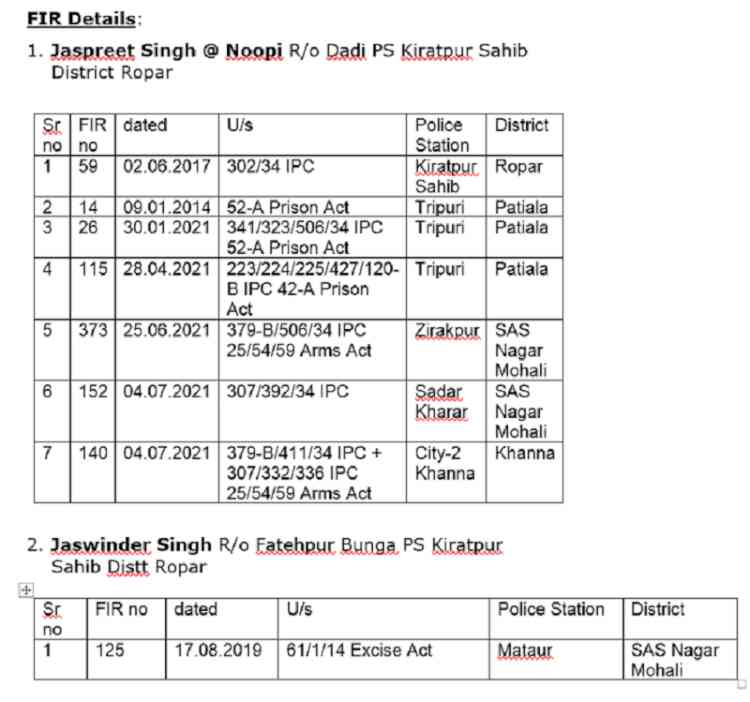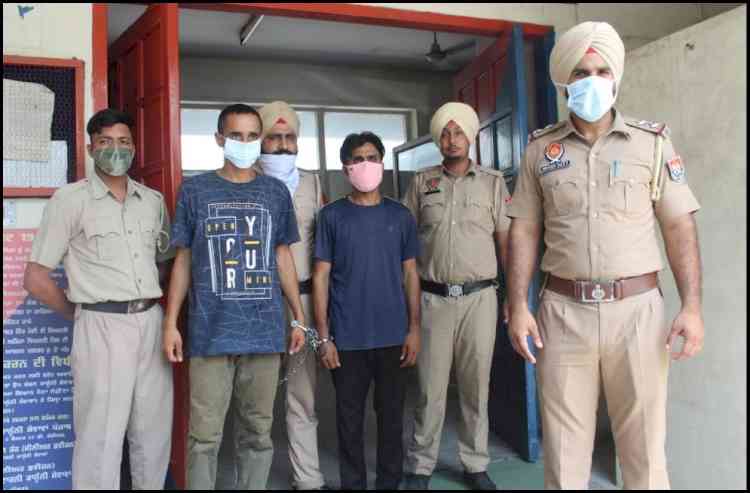 The alleged accused in Khanna police custody.