Khajuraho Lit Fest 2020 
To focus on celebration of Indian Culture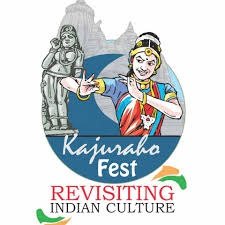 New Delhi: Khajuraho (Madhya Pradesh) is all set to host the second edition of "Khajuraho Literature Festival 2020" (KLF2020) on 18-20 January on the theme 'Celebrating Indian Culture'. Organised by Lok Neeti, the KLF brings together creative minds from all over the country in Khajuraho, the cultural capital of erstwhile Chandelas of Bundelkhand, to discuss cultural and literary richness of India. The event will take place at Mint Bundela Resort, Khajuraho.
 
Satyendra Tripathi, the ideator of Khajuraho Lit Fest and founder of Lok Neeti, under whose aegis the event is organised, says, "We have to bring our value system more in the discussions. The idea is to promote the Indian thought process. While many other literature festivals show our culture and civilization in poor light, we endeavor to awaken the real Indian society. Our theme is celebrating Indian culture."
 
"Khajuraho is very rich by its cultural, traditional and historical legacy. It is an immense treasure we have. But somehow, it has been projected in a very negative manner. When we talk about India's culture and heritage, I thought, we should have the focus on such areas where we can see culture as a 'lived experience'. So once we chose Madhya Pradesh, my mind was drawn towards Bundelkhand region and Khajuraho," he said.
 
Acclaimed authors, journalists and speakers from all walks of life will come together to discuss Indian culture and literature. Few of the brilliant minds participating in KLF2020 include Ram Madhav, National General Secretary, BJP; Jay Panda, National Vice President, BJP; Dr Bharat Pathak, Vice Chairman, MGNCRE, Govt of India; Shakti Sinha, MS University, Vadodara; Sayed Salman Chishty, Ajmer Sharif; Prakash Belawadi, Vivek Ranjan Agnihotri, Filmmaker and Malini Awasthi, Folk Singer.
 
Well-known authors like Sandeep Balakrishna, SaiSwaroopa Kumar, Dr Vandana Shukla, Gautam Chintamani, Dr Amit Nagpal, and senior journalists like Richa Anirudh, Aarti Tikoo, Aalok Shrivastav, Prakhar Shrivastava, Sameer Abbas, Abhinav Khare, Pranav Upadhyay, Prafull Ketkar, Swati Goel Sharma and Pramila Dixit, among various others are also participating.
 
Bloggers Alliance is the blogging partner of the event.