Keen to telecast Gurbani and Shabad kirtan live from Sri Harmandir Sahib purely on non-commercial basis: J K Jain
Says will write to SGPC seeking permission to telecast live Gurbani and Shabad Kirtan from Sri Harmandir Sahib via a dedicated Sikh religion channel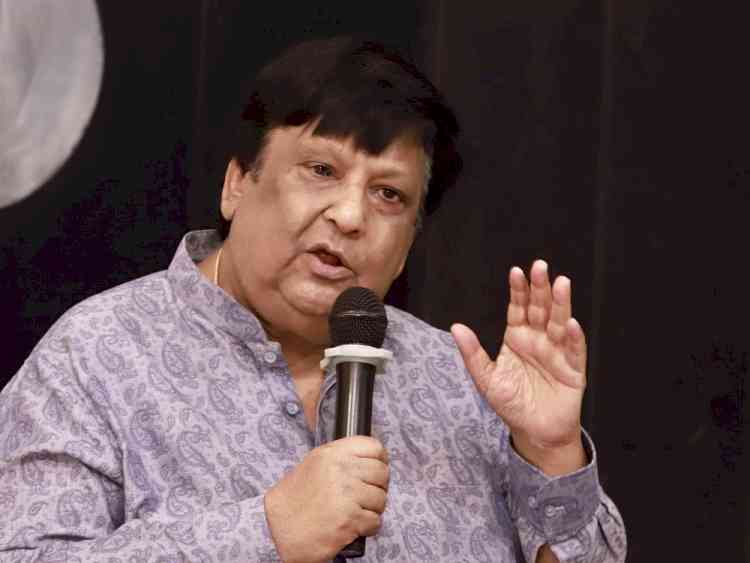 J K Jain, a renowned electronic media tycoon and Chairman, Punjab Today TV Channel addressing a press conference related to the issue of live telecast of Gurbani and Shabad Kirtan from Sri Harmandir Sahib.


Chandigarh, April 8, 2022: A new turn has come in the live Gurbani and Shabad kirtan telecast from Sri Harmandir Sahib issue. J K Jain who is a renowned News and TV Programme production house owner and who is also Chairman of the Punjab Today TV network has expressed his desire to telecast live Gurbani and Shabad kirtan from the holiest Sikh shrine Sri Harmandir Sahib without any monetary considerations and on high definition format, currently, the telecast is being done in digital format.
Jain who was addressing a press conference here today said there is no need for SGPC to make the investments to set up infrastructure as he and his team will do the job from end to end without charging a single penny. Jain informed that he will soon write to SGPC for permission to air Gurbani and Shabad kirtan from the sanctum sanctorum in Sri Harmandir Sahib and Sikh religion-related content for 24-hours, without any advertisements. "All content in the channel will be approved by SGPC and only then will it be telecast," said Jain.
"I am keen to telecast live Gurbani and Shabad Kirtan from Sri Harmandir Sahib purely on a non-commercial basis. We will not charge anything from the SGPC and the live telecast of Gurbani and Shabad kirtan will be done simultaneously on our platform and a host of other platforms without any business concerns.
Jain said further," My only condition will be that the networks using our feed cannot commercialize the same by selling air time through advertising, etc, it will be a purely Gurbani, Shabad Kirtan, and Sikh religion streaming project," said  J K Jain while interacting with media persons here on Friday. Jain explained that he wants to take up the project and finance it from his own funds as at the age of 65 years he has realised the importance of giving back to humanity. "I have earned a lot through my businesses and now I desire to take this initiative for social good," said Jain.
The announcement assumes significance in view of the recent controversy over the telecast of Gurbani and Shabad Kirtan from Sri Harmandir Sahib. Yesterday, even Punjab Chief Minister Bhagwant Mann had requested SGPC, which manages the Golden Temple, to allow the live telecast of Gurbani for the benefit of millions of Sikh devotees across the globe through different platforms.
Jain further said, "Any channel can pick our telecast free. There will be no ads. Sri Guru Nanak Dev Ji had said that 'Gurbani' is for all religions. We cannot monetize these sacrosanct verses," he said.
Jain, himself a very senior and experienced video and electronic media magnate, said that his production house and Punjab Today TV channel have the wherewithal and technical know-how to ensure hassle-free telecast of Gurbani and Shabad Kirtan. "I am extremely delighted and motivated to take the pious Gurbani and Shabad kirtan to every nook and corner of the world for humanity's sake," Jain added.
In reply to a question from media persons, Jain said, "It will not be a commercial or money-spinning activity which it presently is. There should be free access to live streams for all."
Jain said that he even has plans to telecast Gurbani and Shabad Kirtan from the holy Sikh shrines of Sri Nankana Sahib and Sri Kartarpur Sahib in Pakistan. He informed that the new government in Pakistan will surely result in improvement of relations with India and there is a bright chance of his dream of telecasting live Gurbani and Shabad kirtan from these holy Sikh shrines in Pakistan becoming a reality.