Karwa Queen 2021 Season 2 held; Titiksha bags crown
Vivo, The Glorify International & Rhythm Dance Academy hold Karwa Queen 2021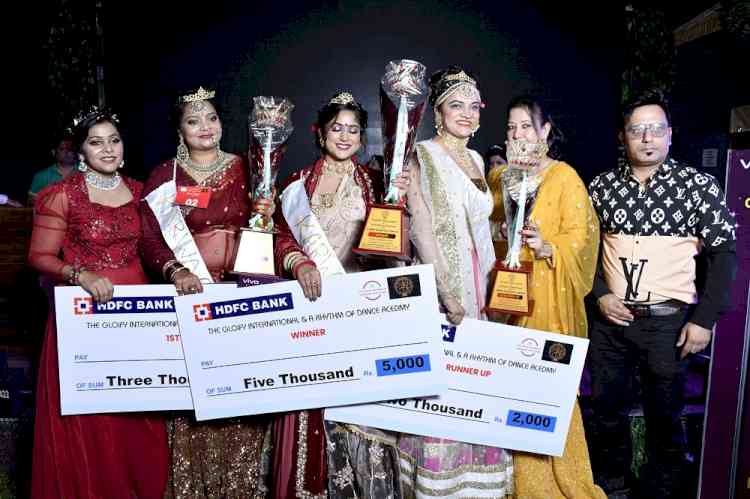 Chandigarh, October 17, 2021: The 'Karwa Queen 2021' Season 2 was held at the Jungle Bar, Kalagram here today, under the aegis of Vivo, The Glorify International and Rhythm Dance Academy. The main title of Karwa Queen 2021 was bagged by Titiksha. The second and third prizes were lifted by Kuldeep Kaur and Manpreet Walia respectively. 
The other prize winners included: Sahiba Mangal (Best Dress), Manpreet Grewal (Best Look), Ravjot Kaur (Best Personality), Aman (Elegant Beauty), Navjot Cheema (Mrs Charming), Baljeet Kaur (Fabulous Personality), Anuradha verma & Vishu Verma, Daughter Mother (Gorgeous Personality), Malik (Stunning Personality), Shikha (Dazzling Personality), Nainy (Dreamy Personality), Amanjot Nagra (Mrs. Simplicity), and Priya Jain (Ms. Graceful). 
The organizers, Dinesh Sardana and Vandana Pathak, said, "A cash prize of Rs 5,000 was given for the first prize winner, Rs 3,000 to second prize winner and Rs 2,000 to the third prize winner. The main attractions of the event were Ramp walk, Dance Masti, Shashes & Crowns, Returns Gift, Photoshoot and many more."
Sanam Gill, MD, Glorify International said, "The motive behind this programme is to provide a platform for the ladies to have fun on Karva Chauth, where they enjoyed the ramp walk also. The first prize winner of the event will be the Brand Ambassador of the next event."
The VIP Guest of the event was Ritu Garg, while the special guest was Jeet Kumar Sardana. The jury members included Davinder Sandhu, Kamya Sharma and Shivani Chawla. The guest of honour were Gurmeet Kapoor, Kavya Narula, Ramesh Handa, Shelly Taneja, Monika Kamboj, Harmeet Bhatia, Gurdev Kaur and Sonu Sethi.The brand ambassadors of the event, Kamya Sharma and Tarleen Kaur, also graced the occasion.
The programme was sponsored and supported by Vivo, SDS Photography, Crown Visa Consultancy Services, Gurudev Creations, Brand J Shine, Monika Creations, The Hollywood Cuts and Jashan.