Karur Vysya Bank and Rotary Club of Karur Texcity dedicate
Classroom Block at Municipal Higher Secondary School, Karur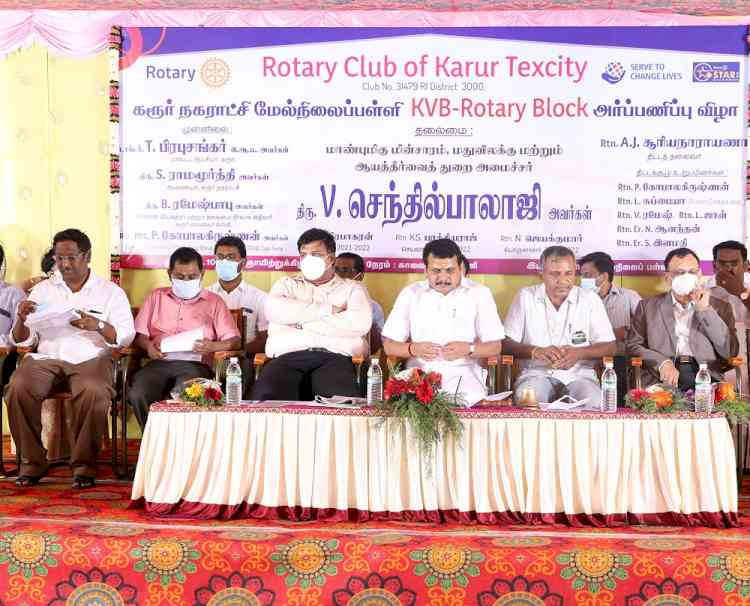 Chennai, October 25, 2021: The new school block at the Municipal Higher Secondary School at Karur was dedicated to the public at a function held in the school on 24th October. Thiru V Senthil Balaji, Hon'ble Minister of Electricity, Prohibition & Excise, Government of Tamil Nadu, dedicated the classroom block. 
Construction of the classroom block was supported by Karur Vysya Bank under its CSR initiatives. Rotary Club of Karur Texcity collaborated with the Bank in this project. The cost of project was Rs. 2.78 Crores. KVB has directly donated a sum of Rs. 2.06 Crores and Rs. 0.24 Crore through Rotary Club of Karur Texcity and Rotary directly donated Rs. 0.48 Crore towards the project.  In all, 16 classrooms, 2 laboratories were constructed.  Amenities like water sump, paver blocks, etc. were also provided. 
Care was taken not to deviate from the architectural façade of the original building of the school which had been constructed in the year 1909. It is expected that with the new building and other amenities, student enrolment will substantially increase in this 140+ years school. 
Thiru B Ramesh Babu, MD & CEO, Karur Vysya Bank and Thiru A.J. Suriyanarayna, Project Director of the classroom construction project on behalf of Rotary Club of Karur Texcity participated.