Kargil Vijay Diwas at UIET
The event was organized on Google Meet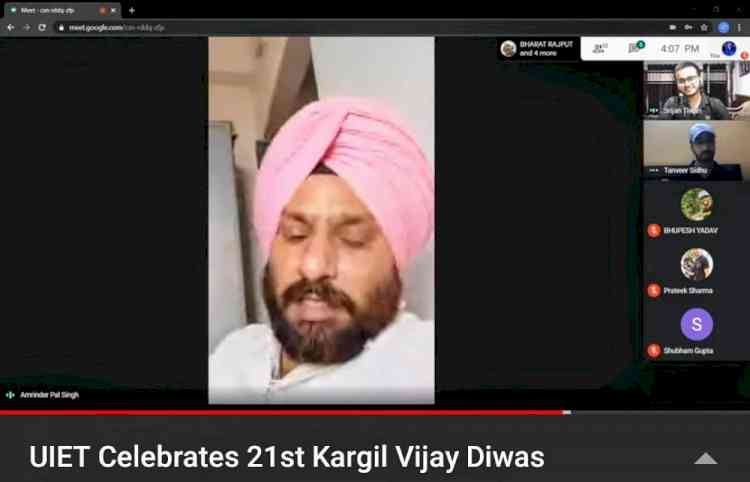 Chandigarh: The Cultural Committee of University Institute of Engg & Technology,Panjab University along with the Alumni Affairs Cell organized an event on the occasion of Kargil Vijay Diwas to pay homage to the martyrs of the 1999 Kargil War. The event was organized on Google Meet and was hosted Live on You tube with all the participants and attendees at their home.
 
The event started with the opening note from Prof. Raj Kumar, the Vice Chancellor of Panjab University and Prof. Savita Gupta, Director of University Institute of Engineering and Technology. They emphasized on the importance of the day and appreciated the students for such an initiative. The Chief Guest for the event was an alumnus of UIET, Lt. Commander Anirudh Bhardwaj. He shared his own experience and gave  an important message to live in and enjoy the present moment.
 
It was followed by  the cultural events which kicked off with a patriotic poetry by Dhriti narrating a message from a soldier to his mother who has sacrificed his life for the motherland. Following it was a song by Devansh Soni and a story by Srijan Tiwari. After that the students narrated the last letters of the Kargil Heroes that they sent to their family creating  an emotional atmosphere. Adding to it, Shubhra Mittal, narrated an account of a Fauji daughter and how an early meeting with her Dad became the last for her.
 
Prateek Sharma narrated a poem in Veer Ras giving an account of a mother's anger who lost her son in the war. Adding to it were songs by Himanshu Rana Sarfaroshi Ki Tamanna and Zindagi Maut Na Ban Jaye fueling the enthusiasm to new heights. Poetry by Bhupesh Yadav made us all look into our lives and introspect to make lives worth protecting. Shubham Gupta gave an account of a son who lost his father in the war but is still brave enough to join the army afterwards. Then the Coordinator of the Cultural Committee and the Coordinator of the Alumni Affairs Cell of UIET expressed their thoughts and encouraged the students to take such steps more often. The event was concluded by a classical dance by Srija Nandi on Vande Mataram instilling the feeling of patriotism in us more firmly.
 
Smart Digital Rooms set up at Computer Centre of PU
Chandigarh: Panjab University has set up two Smart Digital rooms for Online Video and Web Conferencing in the Computer Centre.  These smart rooms will provide multiple facilities for different video conferencing solutions having options for Live interaction capabilities with dedicated Internet bandwidth with power backup.
Today, Vice chancellor, PU Prof Raj Kumar visited the facilities with senior faculty members to inspect the preparedness of the venue. He instructed all technical and civil staff about the arrangements to be made. He also guided about improvement of aesthetics of venue in and around.