Kangra district Zila Parishad president and vice president election postponed due to non-fulfilment of quorum
Next date for these elections fixed for Feb 1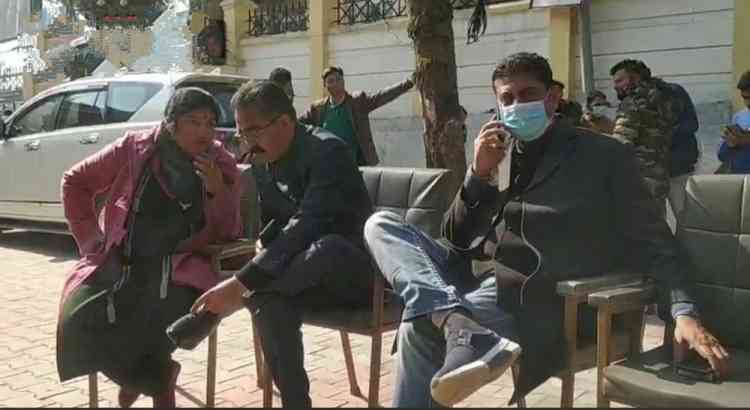 Cabinet Minister Rakesh Pathania and Vikram Thakur sitting outside Zila Parishad Office at Dharamshala.
Dharamshala: The election of the president and vice-president of Zila Parishad, Kangra has been postponed due to non-fulfilment of quorum on Saturday at Dharamshala, now the next meeting regarding the election has been fixed for February 1.
The newly elected Zila Parishad members will elect their president-vice-president on Monday now.
Today, the quorum of the 54-member Zilla Parishad was required to have a presence of 36 members, but by the end of the stipulated time only 33 members supported by the BJP could reach the Zila Parishad office at Dharamshala. Earlier, cabinet ministers of the Jairam government had claimed that they have 34 members support, which means that today one of them was missing.
Forest Minister Rakesh Pathania, Industries Minister Vikram Thakur, MLA Rita Dhiman, Vishal Nehria, including BJP's parliamentary constituency in-charge Trilok Kapoor stayed at the venue till the end of the meeting on Saturday. But during this time, not a single Congress-backed member could reach there, due to which the process of selection of the president-vice-president could not be completed. Meanwhile, Forest Minister Rakesh Pathania has claimed to come with  40 members on February 1.
It is to be noted that on Friday Chief Minister Jairam Thakur visited Dharamshala and twice met (party supported) newly elected members of the Zilla Parishad here. After this, the BJP looked strong as two independents also joined the BJP. On the other hand, the Congress was also claiming the majority on their side.
The meeting was scheduled to start at 11 am today, but no member had reached till 12 noon. After this, the quorum could not be completed when the meeting started at 12 noon.
The district council has 54 seats in district Kangra. According to the results of the elections out of which 26 BJP members have won, 18 seats won by  Congress, while 10 independents have also won. Earlier, the BJP had some fear that the independents might join the Congress camp. Some independent Zilla Parishad members have also joined the BJP during the CM's visit to Dharamshala on Friday. Now the BJP claims that they have the majority of 34 members in Zilla Parishad. But on Saturday, only 33 members were with the BJP leaders in the Zilla Parishad office.