Kangra district geared up for any possibility of second Corona wave: Rakesh Prajapati
Says, they are testing around 2000 cases daily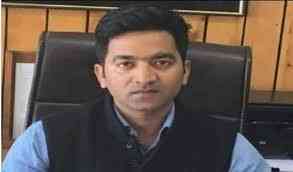 Deputy Commissioner Kangra Rakesh Prajapati.
Dharamshala: Deputy Commissioner Kangra Rakesh Prajapati said, "We have registered around 31 hundred Corona cases in the district so far and 71 people lost their lives due to this deadly disease. We are testing around 2000 cases daily, and we are getting 30 to 50 positive cases daily which means the positivity rate has declined considerably. The administration has geared up for any possibility of the second wave in this winter." 

Talking to the media at Dharamshala, he said that the administration is also taking the help of some NGOs too, to identify the people having symptoms of Corona. He said, "As far as the corona testing of the government employees is concerned, we are already on the job. Thousands of employees having public interaction, including police persons, school teachers etc, were tested in the past 15 days in the district. This will help the authorities to reduce the chances of the Corona spread."

Prajapati, who himself was hospitalized and recovered from the attack of this virus said that he was infected due to some lapse, somewhere in the  protection against  this virus. He added that one may not have any symptom but could carry the virus for others, and if Corona infects the person with Co morbidity, it could be fatal too, as the district have already witnessed 71 deaths, so everybody must use masks, keep social distancing and wash the hands regularly. "corona period will go a long way, and we should vanish the chances of any lapse anywhere", said Prajapati.