JOSHI FOUNDATION'S COMMUNITY KITCHEN ENDS
1,07,300 food packets distributed in 32 days; UT SSP IPS Nilambari Jagadale distributed food on last day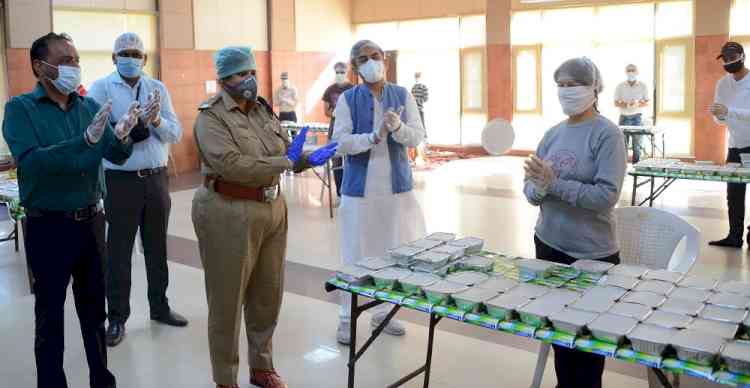 Chandigarh: The Joshi Foundation and Heart Foundation today announced closing of their community kitchen, set up to cater the needy persons in the Covid-19 crisis, at the Sector 15 community kitchen today.
On the last day, UT SSP Mrs. Nilambari Jagadale, IPS, handed over the last consignment of free food packets to the UT Administration. The service today ended on its 32nd day, as it was started on April 3.
 As many as 1,07,300 food packets were distributed among the needy, poor, downtrodden. Under this 'Jan Jan Bhojan', free food packets were distributed at Sectors 14, 15, 16, 24, PGI, Panjab University and also at periphery areas including, Kachi Colony Dhanas, EWS Colony Dhanas, Small Flats Maloya and Nayagaon. According to Vineet Joshi, Chairman of Joshi Foundation, the service was started with a sole aim of helping the needy people. "Till date, we have distributed over 1.7 lakh food packets. On daily basis, we provided 2000 food packets to the UT Administration and another 2000 food packets were distributed to the needy directly in various sectors and periphery areas of the city," said Vineet Joshi.
Dr HK Bali, Chairman Heart Foundation, and Saurabh Joshi, President Joshi Foundation, also presented a vote of thanks to all the volunteers who made this community kitchen a success. "Our aim was to keep alive the spirit of humanity. We have done our best to bestowed the needy with food," said Dr Bali.