Janmashtami celebrations at DCM Presidency School, Elementary Campus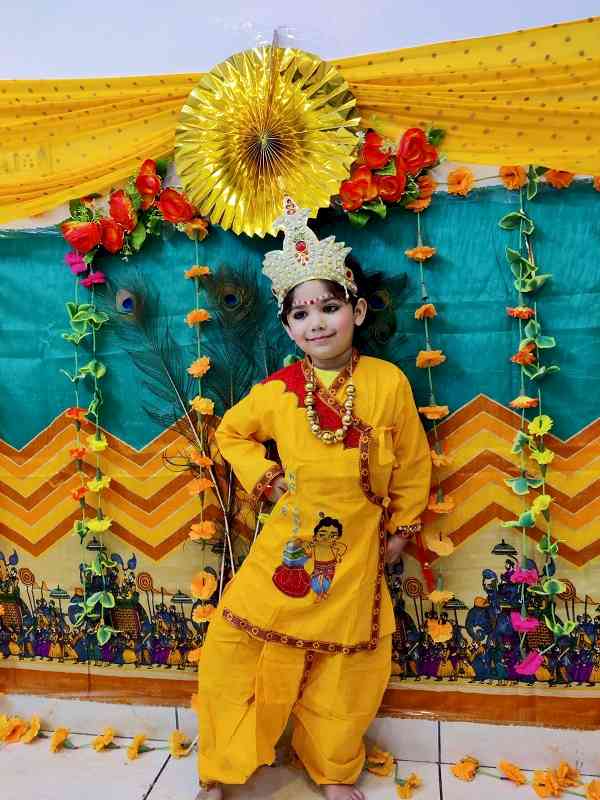 Ludhiana, August 28, 2021: To seek the blessings of Lord Krishna, Janmashtami was celebrated in Online and offline mode  at DCM Presidency School, Elementary Campus   on 28th August, 2021 with mirth and enthusiasm. 
The tiny tots of Nursery to Grade -II donned themselves in the attire of Lord Krishna and Radha, frolicking around with flutes and matkas.  The children looked adorable and shared their knowledge about lord Krishna and significance of Janmashtami with their mentors. 
The teachers shared enchanting tales about Lord Krishna that included stories on His love for butter, His lifelong friendship with Sudama, playing the flute meliflusliy, etc. 
The Tiny tots enjoyed watching the story clip 'Krishna and the Magic Pot', which showed Krishna's bid to break the butter matki .
The enthused classes were engaged in plethora of activities like matki colouring, flute decoration, Mukut decoration etc.
To keep the joyous festive spirit alive, the children were encouraged to celebrate the festival with their families. They were told about the universal values that are a part of the occasion. 
.
The colourful dance performances by the students who were dressed up as Krishna and gopikas added to the delight. Nursery /Prep-I students along with their mothers also enacted the pranks from the life of  Lord Krishna which were a treat to watch.
The virtual celebration was indeed truly informative, enlightening and entertaining.