Jan jan bhojan initiative launched by Joshi Foundation and Heart Foundation 
2000 persons daily catered under jan jan bhojan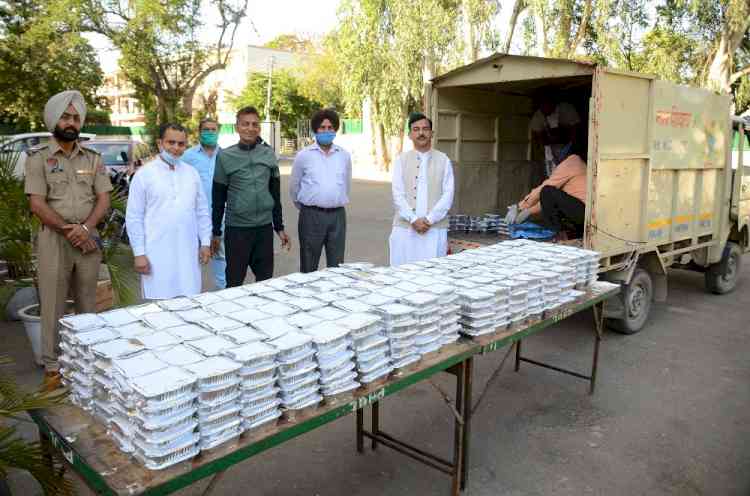 Chandigarh: With a sole aim of community service, at the time when the nation is fighting to emerge out for the Covid-19 pandemic, the Joshi Foundation and Heart Foundation has set up a community kitchen titled as jan jan bhojan to cater to underprivileged people living in and around Chandigarh. 
The kitchen started at the Sector 15 Community Centre, which prepared food for 2000 people yesterday and today. The aim of this community service is to cater 10000 needy people daily in next few days.   
On Friday and Saturday, the prepared food was delivered to the people living in slums, rehabilitation colonies and villages via Chandigarh Administration. "We at Joshi Foundation have always helped the needy people. Besides organising various seminars, we have been organising world-class mega medical checkups camps since last four years and on the similar line we have started this kitchen. Our main motive is to provide food to the people who are deprived of facilities in the ongoing tough times. We aim to cater more people in coming days. The needy people can also contact us anytime so that we can reach out to them anytime," said Vineet Joshi Chairman Joshi Foundation. 
Meanwhile Dr HK Bali, Chairman Heart Foundation, said that both of the foundations aim to cater to 10000 people on daily basis. "We want to reach out to maximum people—not only living in Chandigarh to the periphery area also. Besides giving them food, we would also make them aware about importance of hygiene in one's life. We have started the kitchen yesterday and want more people join us," said Bali. "We want people to kindly come forward for this cause and donate as per their wishes to help the poor. The people can also give us raw material, Atta, Rice, Dal, Refined Oil, Vegetables, etc," added Joshi.