Jagannath Food for Life Trust providing food to 16,000 people in this difficult time: Satish Gupta
The objective of the Trust is to provide clean and "sattvic" food to the people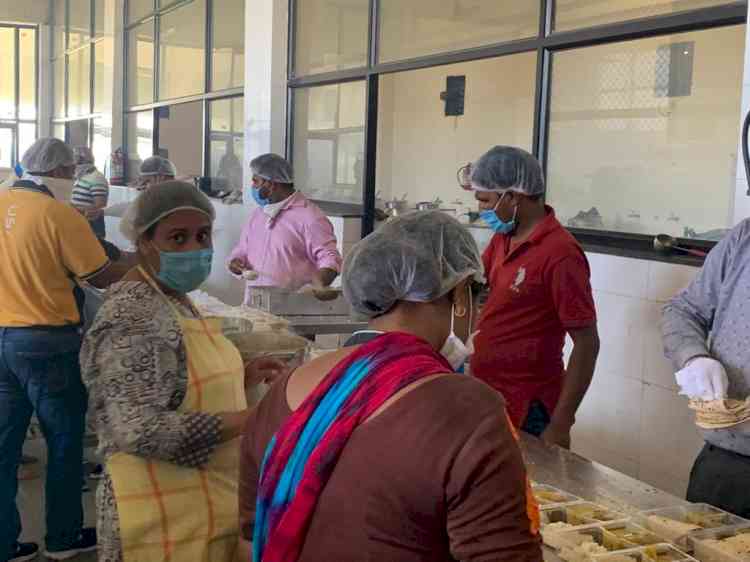 Ludhiana: The efforts of Jagannath Food for Life Trust, a mega kitchen with food capacity of thousands of people, is behind the Whistling  Wuds Resort Firozpur Road arranging food for sixteen thousand needy people every day in these difficult days.
Satish Gupta president of Jagannath Food for Life Trust and Chairman Naveen Bhatia said that Jagannath Food for Life has been created to serve humanity and the Trust is ready for every service in the difficult times of this epidemic.
Adding, Satish Gupta said that the objective of this trust is to provide clean and sattvic food to the people.
Trust president Satish Gupta and chairman Naveen Bhatia appealed to the people of Ludhiana, came forward to serve the needy people in this epidemic because in the scriptures it has been said that human service is God service.
Tony Mahajan of Mahajan Wires, Mohinder Goyal, Mahesh Goyal, Vinay Singal of Janpath Estate, Pradeep Mittal of Palace Jewellers, Pradeep Aggarwal of Pradeep Properties said that the responsibility of all of us has increased even more during this disaster and they all Jagannath sewaks should come forward to serve humanity together.
Rakesh Gambhir, Advocate Anil Saluja, Sheru Sachdeva, Pradeep Gautam Gabby said that in this difficult time where the outbreak of the epidemic is going on, they prays to Lord Jagannath that he should end this epidemic as soon as possible and protect everyone. President Satish Gupta and chairman Naveen Bhatia have assisted Jagannath Food for Life Trustees, Kailash Goenka of Ludhiana Beverages, Dr. RK Sharma of Ricela Oil, Param Sevak Sanjay Garg Dimpy, Ashok Malhotra of Palm Garden, Jeevan Gupta of Leeford Pharma, Pamit Aggarwal, Om Aggarwal of Kitty Shawls, Anil Gupta of Longmen, Kailash Ladha, Rupinder Chawla Tikka, Hemant Sood, Jai Kumar Gupta, Davinder Bhasin, Raman Bansal, Sudhir Sehgal, Arun Gupta, Ashwani Jain Pappi, Avinash Arora and many others for their endless support.